NMT Licenses Anti-COVID Invention for a Nasal Spray To California Pharma Company
September 16, 2020
---
Biologists Rogelj and Turner developed patent-pending product over past three years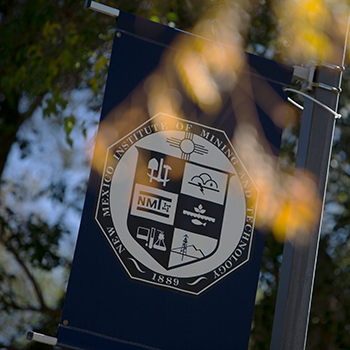 SOCORRO, N.M. – New Mexico Tech has entered a new licensing agreement with Parnell Pharmaceuticals to develop an antiviral treatment to be used as a topical nasal spray as prophylaxis against COVID-19.
Nomovid™ Nasal Spray will be easy-to-use, low-cost, and can be quickly made available over-the-counter for consumers. Nomovid is based upon a substance licensed by Parnell from New Mexico Tech to treat drug-resistant bacteria and fungi such as MRSA and Candida auris. The novel spray attacks lipids in the viral envelope, and has been tested against the novel coronavirus by an independent laboratory.
The new treatment was developed in the Biology Department at NMT by professor Dr. Snezna Rogelj and post-doc Dr. Danielle Turner. They've been working on this product since 2017. The product has a patent pending. Rogelj said the product kills all tested human pathogens, including the deadliest of drug-resistant bacteria and fungi.
New Mexico Tech entered the licensing agreement with Parnell about a year ago, well before the COVID-19 pandemic. Rogelj and Turner realized during the early stages of the outbreak that their product would be effective against the novel coronavirus and encouraged Parnell to pursue further testing.
Dr. Francis Parnell, Chairman and C.E.O. of Parnell Pharmaceuticals, said "An independent, outside laboratory has confirmed our findings and found it to be greater than 99.9 percent effective in vitro against the SARS-CoV-2 virus."
"Our product is based upon existing FDA approvals of the active ingredients for use in intravenous and inhalation formulations for other indications. Since the nose is the main route of entry into the body of SARS-CoV-2, we have prepared it in a nasal spray," Parnell said.
Parnell has applied for funding from the U.S. government program Operation Warp Speed, and asked for an Emergency Use Authorization, which will allow the product to be manufactured and distributed while doing the necessary Phase III Clinical Trials.
Parnell Pharmaceuticals is a closely-held, private pharmaceutical company founded in 1986 and headquartered in San Rafael, Calif., with an office in Dublin, Ireland. The company develops, manufactures, and markets prescription and OTC drug products that maintain and restore mucosal and skin integrity. The products are natural-based and patented for oral and nasal care, personal care, and anti-infective use. Parnell products are marketed and distributed in North America and Europe.
– NMT –