NMT Grad Peggy Barroll Wins 2020 Earth Science Achievement Award
January 15, 2020
---
Bureau selects Barroll to honor her distinguished career with the N.M. State Engineer
SOCORRO, N.M. – The N.M. Bureau of Geology will officially honor Peggy Barroll with the 2020 Earth Science Achievement Award at noon Monday, Feb 3, in the rotunda of the state capitol building.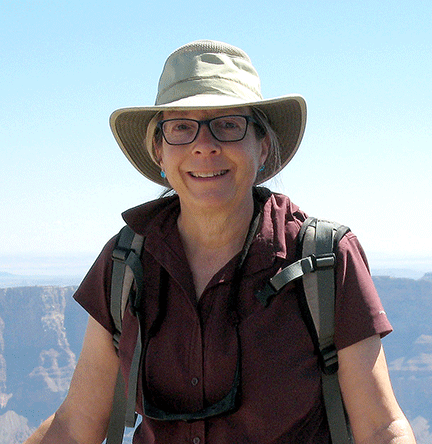 The New Mexico Bureau of Geology and Mineral Resources is a research division of New Mexico Tech. The Bureau annually presents the Earth Science Achievement Award for Public Service and Public Policy for an outstanding career of public service. Dr. Margaret "Peggy" Barroll (pictured at right) had a distinguished 27-year career in the Hydrology Bureau of the New Mexico Office of the State Engineer.
Peggy Barroll was employed as a hydrologist with the Office of the State Engineer in Santa Fe from 1991 to 2017. She earned two degrees at New Mexico Tech – her master's in hydrology in 1984, and her Ph.D. in hydrology in 1989. Her dissertation research focused on analysis of the Socorro hydro-geothermal system, combining basic geology, measurements of groundwater temperatures, and hydrogeologic modeling to decipher the groundwater flow in the Socorro area.
During her tenure with the State Engineer, she used her geoscience background and modeling skills to develop groundwater models for water-limited areas in New Mexico. Her models were used as the basis for a variety of legal and scientific water-management decisions in critical groundwater basins, including the Albuquerque Basin, the Lower Rio Grande basin, the Taos and Carlsbad areas, and the aquifer systems of the lower Pecos River.
She also worked to develop modeling systems that combine groundwater and surface water models, and that simulate the operations of surface-water irrigation districts. Peggy's well-respected hydrology research has been widely used by state and federal agencies, consultants, tribes, citizens, and university researchers. She has also worked to develop guidelines and regulations for prudent water management in New Mexico, and has provided litigation support for the state. Although recently retired, Peggy has continued to be involved in research related to the Rio Grande Compact, which governs the distribution of Rio Grande basin water among New Mexico, Texas, and Colorado.
The award presentation coincides with Earth Science Day/New Mexico Tech Day at the Roundhouse. New Mexico Tech academic and research divisions, as well as other agencies with earth science focus, will staff tables and displays on the ground floor of the Roundhouse from 9 a.m. to 3 p.m. The public is invited to visit the Roundhouse throughout the day and to attend the ceremony.
The New Mexico Bureau of Geology and Mineral Resources is a non-regulatory research and service division of New Mexico Tech in Socorro. For 93 years, the bureau has served as the geological survey for the state of New Mexico. Nominations for next year's awards are welcome from the general public and may be submitted directly to the director of the Bureau of Geology.
– NMT –