NMT Dedicates Observatory Plaque To John Shipman
February 18, 2019
---
Former Tech staffer was known as a Renaissance man, and an avid amateur astronomer
SOCORRO, N.M. – New Mexico Tech officially dedicated two plaques in commemoration of the life, contribution and influence of former computer science instructor John Shipman on Monday, February 18.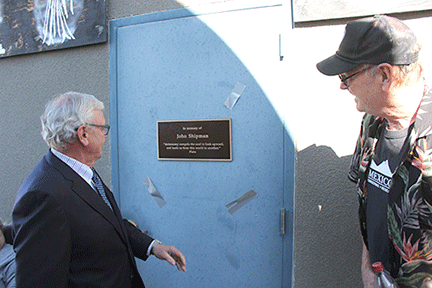 NMT President Dr. Stephen Wells hosted the ceremony at the Etscorn Campus Observatory, along with Mr. Shipman's sister Sally Breeden, and observatory namesake Dr. Frank Etscorn. After Mr. Shipman's friends shared anecdotes about him, Wells and Etscorn unveiled a plaque on the exterior door that includes a quote from Plato.
(Pictured at right are President Stephen Wells and Frank Etscorn (left)).

Mr. Shipman (pictured at right) was known as a Renaissance man; he was an avid bird-watcher and a gourmand. He was well known as an amateur astronomer and inspired Etscorn to learn the constellations, buy a telescope, and become a hobbyist as well. For that reason, Etscorn wanted to commemorate Shipman's legacy at the observatory. A similar plaque will be installed at the Magdalena Ridge Observatory, Tech's astronomy facility.
Mr. Shipman passed away January 31, 2017. He was a 1970 graduate of New Mexico Tech with a bachelor's in computer science. After working for more than 15 years in the Bay Area of California, he returned to Socorro in 1987 to work in the Computer Science Department and the Tech Computer Center (TCC).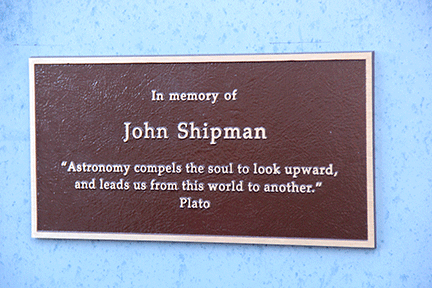 Mr. Shipman retired from New Mexico Tech in 2013, but remained a steady presence within the NMT community as a singer and volunteer.
(Pictured at right: The plaque commemorating John Shipman's contribution to Tech and his love of astronomy).
Mr. Shipman's career at New Mexico Tech included teaching courses in software construction, Cleanroom software development, operating systems, and practica in Python, LaTex and Tex. As an applications specialist, he wrote and organized external and internal documentation, built internal applications, taught informal user classes, and engaged in what he called "software technology evangelism." His Python classes were free and open to the general public.
– NMT –