Mechanical Engineering Prof Named N.M. Engineer of the Year
February 27, 2019
---
Ashok Ghosh is the first NMT professor to win this award
SOCORRO, N.M. – Mechanical engineering professor Dr. Ashok Ghosh was named the Engineer of the Year at the annual conference of the Albuquerque chapter of the Society of Professional Engineers.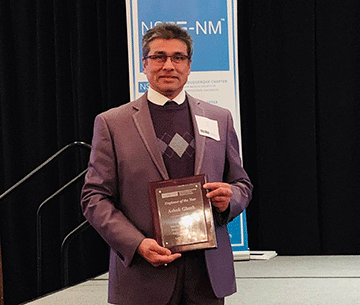 Joe Higham, NMT graduate and current president of the SPE chapter in Albuquerque, nominated Ghosh for his extensive career in research, education, community service, and leadership.
(Pictured at right is Dr. Ashok Ghosh holding his 'Engineer of the Year' plaque.)
University President Dr. Stephen Wells said that Ghosh's award is indicative of the quality of professors and the instruction at New Mexico Tech.
"This is the type of accolade that is significant for Tech," Wells said. "Dr. Ghosh is extremely prolific in research, education, and community involvement. He is very deserving and we are pleased that a prestigious professional organization like the SPE has recognized one of our outstanding faculty members."
Higham's wrote that "it is with great pleasure that I nominate Dr. Ashok Ghosh, PE, for Engineer of the Year. His outstanding accomplishments and commitment to the profession of engineering is an example to us all. Dr. Ghosh is tireless in his efforts to expose students to engineering and to encourage them in pursuing engineering."
Ghosh has more than 50 peer-reviewed publications, five patents, numerous research grants, and is currently a Fulbright Specialist, having spent the summer 2018 at the Birla Institute in Goa, India.
Ghosh joined the NMT faculty in 2004. Since then, he has secured more than $3 million in research grants. In 2018, he spearheaded the creation of the N.M. Debate Competition, which continues this year with a competitive debate among NMT, the University of New Mexico, and New Mexico State University.
"This award is a big deal for me in my career going forward," Ghosh said. "This provides good recognition for our campus, in addition to all of our national rankings."
Ghosh is the first NMT professor to win this award. Prior NMT professors have won the Young Engineer of the Year award.
– NMT –