COMMENCEMENT 2019: NMT Honors Nearly 280 From Class of 2019 Saturday
May 8, 2019
---
Full video of the ceremony is online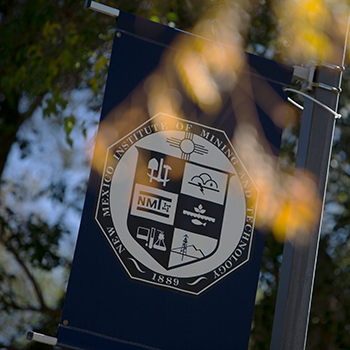 SOCORRO, N.M. – Nearly 280 members of the Class of 2019 participated in the commencement ceremony at New Mexico Tech on Saturday, May 11.
The ceremony took place on the lawn north of Brown Hall, beginning at 9 a.m.
The Class of 2019 includes about 445 graduates – about 300 bachelor's recipients, 130 master's recipients and 15 Ph.D.'s. About 280 graduates participated in the ceremony. Hundreds of family and friends filled the venue for an event that culminated with the appearance of students dressed like Storm Troopers shooting confetti over the graduates.
Click here to watch the full video of the 2019 Commencement ceremony
The top awards were announced during the ceremony. Chemical Engineering graduate Margaret House won the Brown Award as the top student. The two Cramer awards were given to the two top engineering students -- Tully Genis of the Civil Engineering Department and Milagre Coates of the Computer Science Department.
The Langmuir Award was given to Eshani Hettiarachchi fo the Chemistry Department for the graduate student who published the most influential paper. The Founder's Award to the top graduate student who made an impact on campus culture was given to Dr. Danielle Turner, who earned the first ever doctorate in biotechnology at New Mexico Tech.
The Distinguished Researcher Award was given to Dr. Nikolai Kalugin of the Materials Engineering Department. The Distinguished Teaching Award was given to Dr. Anwar Hossain of the Math Department. The Distinguished Service Award was given to Dr. Sharon Sessions of the Physics Department.
– NMT –