Beloved History Professor, Alexander Prusin, Passes Away
August 15, 2016
---
Memorial Service and Reception Will Be Thursday, Aug. 16, in Socorro
---
SOCORRO, N.M. – New Mexico Tech lost a beloved long-term professor Monday, August 13, when Dr. Alexander Prusin passed away suddenly.
Dr. Prusin joined the NMT faculty in 2001 as a history professor in the CLASS Department (then known as the Humanities Department). Prusin specialized in the history of Russia and Eastern Europe, nationalism, ethnic conflict, and genocide.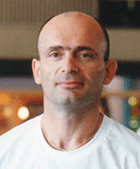 A memorial service is set for 2 p.m. Thursday, August 16, at Daniels Family Funeral Home, 309 Garfield Ave. in Socorro. A reception will follow at the home of Alex and Elena Prusin at 706 Miller Ave. in Socorro.
Dr. Alexander Prusin
University president Dr. Stephen Wells informed the campus community via email on Tuesday, saying "Dr. Prusin was a great educator, colleague, and friend. On behalf of the CLASS Department and the entire institution, I want to express our deep sadness by his unexpected passing. I extend my sympathies to his family, his friends, and all the students who were influenced by Alexander's wit, charm, and passion."
Department chair Dr. Steve Simpson said Dr. Prusin will be missed dearly by everyone who knew him. "He had a way of presenting history that was very engaging. The students really loved him. His classes were difficult, but students enjoyed the rigor. He had a dry, ironic sense of humor that came out in our department meetings, and we'll miss that."
Stephanie Pick Baca graduated from New Mexico Tech and is now a lecturer in history at NMT. She said Dr. Prusin's passing is a profound loss for his family, friends, students, colleagues and the academic community as a whole.
She said, "As his student, he acknowledged my passion, challenged my beliefs through debate and was merciless in grading because he knew I could do better, and thanks to him, I always did.
"After graduation, he did not hesitate to insist that I pursue a graduate degree in history – providing not only glowing recommendations to secure my spot in a program, but offering his assistance as a mentor. He read over my research, played soundboard to my frustrations and insisted I guest lecture in his classes so he could provide me feedback and experience.
"He is the reason I am who I am, and where I am. I know I am not alone in the void his absence has created. His life was purposeful, unwavering, and succinct. His influence, guidance and tutelage were invaluable and my debt and gratitude for him, immeasurable.
Dr. Prusin's courses were always popular with Techies – from his 100-level world history survey courses, to upper level courses on modern history, revolutions, the Soviet Union, and the Middle East. No matter which course he taught, he always received top marks from students who took his class.
Dr. Prusin also was a prolific researcher and writer, constantly on the trail of a new historical tale to tell. He has a book set to be published by the University of Toronto Press later this fall titled "Justice Behind the Iron Curtain: Nazis on Trial in Communist Poland."
His most recent book in print is "Serbia Under the Swastika," published by the University of Illinois Press in 2017. In 2010, he published a book with the prestigious Oxford University Press titled "The Lands Between: Conflict in the East European Borderlands 1870-1992." These are just a few of his significant contributions to the study of world history.
– NMT –