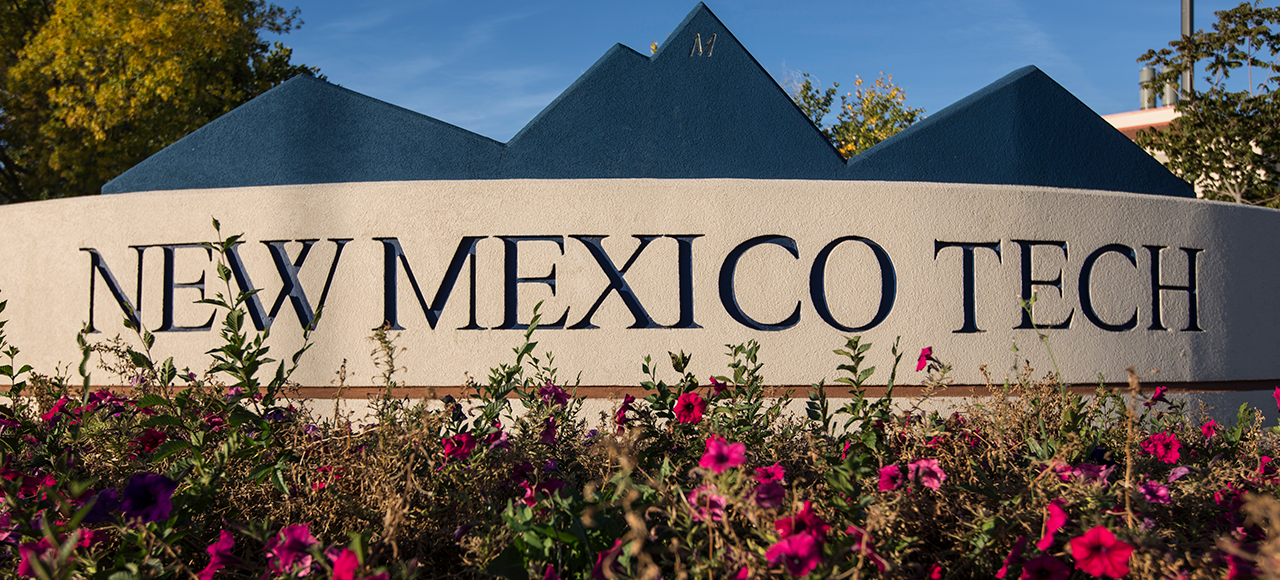 Alternative Licensure Program for Teachers
The New Mexico Institute of Mining and Technology (NMT) Alternative Licensure Program will be for secondary or elementary licenses. The Teacher Licensure Program ensures that candidates have a thorough understanding of how to be a successful classroom teacher through providing instruction in classroom management, diversity and differentiating instruction, planning and implementing curriculum, effective use of assessment, teaching communication skills, collaboration, integrating technology, reflection, and professional development.
Scholarships available
Contact: Megha Khandelwal, PhD
Email: megha.khandelwal@nmt.edu
Phone: 575-835-5470
Office: Cramer 131
Overview of the Alternative Licensure Program
Summary Document
To view or download a summary of the Alternative Licensure Program (ALP) (printable format), click here.
Vision
The vision of the Alternative Licensure Program at New Mexico Tech is to prepare teachers who enter the profession feeling confident they can and want to teach; who will positively influence their students, schools, communities, and profession through their disposition to be self-motivated lifelong learners, thorough content knowledge, involvement in a community of active learners, and their belief that all students can learn.
Mission
Our mission is to provide schools with teachers who have the tools they need to engage all their students in meaningful learning and who bring excitement and enthusiasm for the teaching profession into their schools.
Student Learning Outcomes
At the time of completion of all the teaching licensure requirements, our students should have:
1. Knowledge base in Education: Students demonstrate knowledge of fundamental concepts in K-12 education, and can apply theoretical principles to student performance.
2. Scientific inquiry and critical thinking: Students can reason about educational research methodologies and can apply research towards problem-solving. They can design revealing comparison groups in studies. They draw conclusions about student achievement from evidence.
3. Ethical and social responsibility in a diverse world: Students develop ethically and socially responsible behaviors in the context of the education profession.
4. Communication: Students demonstrate competence in written and oral communications about K-12 classroom teaching. They express claims clearly, optimize information exchange, and anticipate audience needs.
5. Professional development: Students work productively with others on various aspect of student learning.
Theory of Action
1. Recruit highly qualified candidates
The NMT Teacher Licensure Program will recruit highly qualified candidates; prepare them in rigorous coursework that aligns with NM Teacher competencies/InTASC standards; thereby developing them into competent educational practitioners as will be reflected by their K-12 student achievements.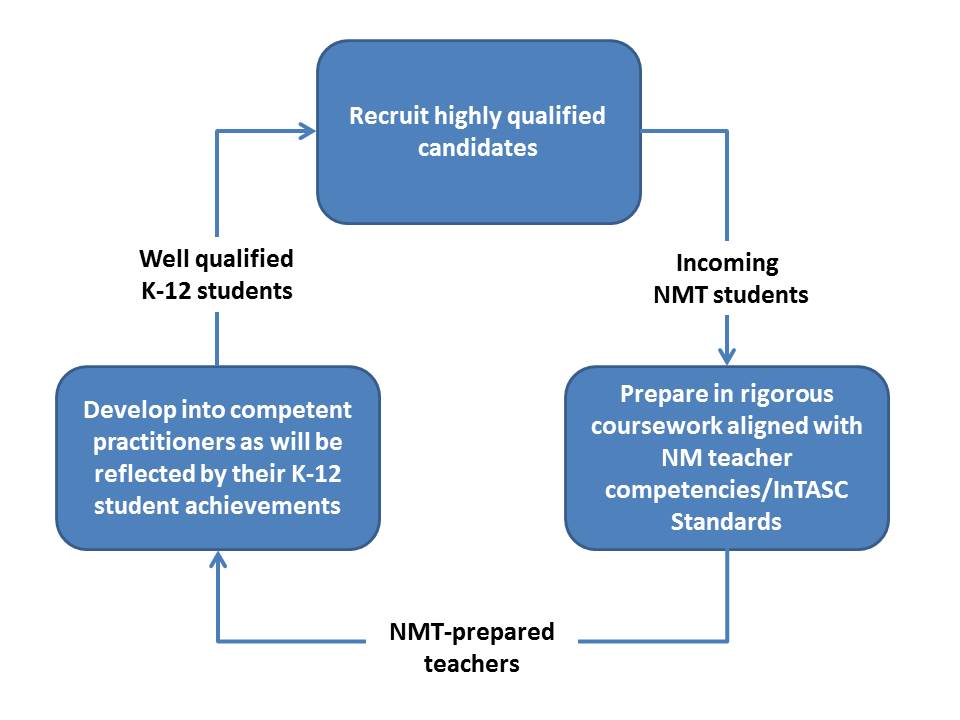 2. Prepare in Rigorous coursework aligned with NM teacher competencies/InTASC standards
In order for candidates to develop into competent practitioners, the Education program at NMT will immerse candidates in rigorous coursework that is aligned with NM Teacher competencies/InTASC standards. Coursework is based on:
A culture of inquiry based and active learning to build students' understanding of complex issues and connect theory to practice
Reflective practices to develop insightful transformation-ready practitioners prepared for dynamic and continuous evolution in the field of education during their teaching career
Principles of adult learning to continue to make sense of, and act upon the environment in which they live and work

Continuous program improvement through data driven critical decision making
3. Develop into competent practitioners as will be reflacted by their K-12 student achievements
In order for all students to learn, teachers must have the knowledge, skills and disposition to:
Create an environment in the classroom that is conducive to learning for all students, a community of learners where students feel safe, challenged, curious, and valued.
Differentiate instruction to respond to the needs of all learners including those differing in experience, readiness, interests, intelligences, ability, language, culture, gender and mode of learning
Plan a challenging and engaging curriculum that is relevant and ensures meaningful learning for all students; and implement it in a manner that develops reasoning and critical thinking skills
Use a variety of assessment techniques to meet the needs of diverse learners and provide prompt feedback designed to increase student learning and promote self-assessment
Teach students to work collaboratively and to communicate effectively (speaking, listening, reading, and writing); and, work collaboratively with students, teachers, administration, parents and the educational community as a whole to ensure success for all students

Reflect on their own teaching practices, grow and develop professionally with the attitude that teachers are lifelong learners
Program Gateways
Program Entry: Candidates applying for admission to the Alternative Licensure Program must:
At least a Bachelor's degree from a regionally accredited college or university with a minimum of 30 credit hours (C- or better) in a specified teaching field
Have passed the National Evaluation Series (NES) of Essential Academic Skills (Subtests I, II, and Ill)
Participate in a background check & pay associated fees
Program Midpoint: Candidates wishing to enroll in EDUC 503, Methods and Practices of Teaching and subsequently, EDUC 511, Supervised Field Experiences must have:
Pass prerequisite education courses with a grade of C or better

EDUC 340 Concepts in Education
EDUC 341 Matching Teaching Strategies to Student Learning
EDUC 5XX Assessments & Measurements/Teaching & Assessing Reading
EDUC 501 Effective Reading for Diverse Learners

Demonstrate a positive disposition to continue working in the field of education
Exit Requirements: Candidates completing the program must have:
Pass all education courses with a grade of C or better

EDUC 503 Methods & Practices of Teaching
EDUC 511 Supervised Field Experiences

Demonstrate a positive disposition to continue working in the field of education
Pass the remaining required NES tests
Licensure Requirements
A nonrenewable, 2-year license granted to allow a person to simultaneously teach, complete face-to- face courses or online courses at an approved university or community college. The Alternative Educator Prep Program is a focused state-accredited (approved) post-baccalaureate program for obtaining your New Mexico Level 1 teaching license.
For more information, please see the New Mexico Public Education Department (NMPED) here, or by copying and pasting the following link in your brower: https://webnew.ped.state.nm.us/bureaus/licensure/alternative-licensure-programs-opportunities/alternative-educator-prep-program/
Teacher Preparation Program Report
Banweb 1st time Access Online Registration
Canvas Access
Canvas Login
URL: https://nmt.instructure.com or learn.nmt.edu
USER NAME: student ID (9-digit 900#)
First time user PASSWORD: Date of Birth in YYYYMMDD format
If you know your 900# and your Tech email address but your DOB doesn't work for your password, click the "Don't know your password?" link and submit your Tech email address.
To change your Canvas password, login to Canvas and:
Click on your "profile picture" in the upper left
Click "Settings" link
Click the "Edit Settings" button on the right.
Click the "Change Password" box and fill in the password fields that appear.
You can also add an email address or other contact means (like SMS texts) on this screen, in addition to changing your notification preferences.
If you are still unable to login to Canvas, please contact ACT at act@nmt.edu or call 575-835-6700 (toll-free 866-644-4887).
Want to know more?
Visit the Canvas Student Getting Started Guide here: