Geology Field Camp
NEW MEXICO TECH
SUMMER FIELD GEOLOGY
COURSE 2018
(Open to students from other schools)
---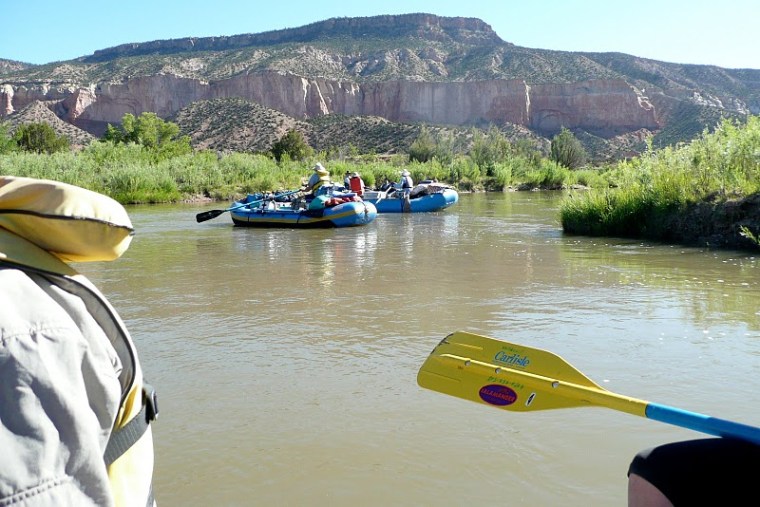 New Mexico Tech offers a six-week summer geology field camp that is open to New Mexico Tech students and qualified applicants from other universities. This coming summer the field course will be conducted in the southern Colorado Plateau and Rocky Mountains area. Rocks in this region range in age from Precambrian to Quaternary, and a great diversity of rock types and geologic structures are well exposed. Deep canyons cut into the Colorado Plateau providing spectacular 3-dimensional exposures of these features.
Students will have the opportunity, under the direction of New Mexico Tech faculty, to learn principles of geologic mapping and reconstruction of geologic history from field relationships. The course will also involve measurement, description and interpretation of textures, structures, and stratigraphic successions; structural analysis of complexly deformed rocks; and preparation of geologic reports. Emphasis will be placed on interpreting rock associations in terms of tectonic settings, reconstruction of environments of sedimentation and volcanism, evaluation of rock deformation history, and mechanisms and relative timing of pluton emplacement and mineralization. Exercises related to various aspects of Quaternary and environmental geology will play an important part in the curriculum.
SPRING 2018 FIELD CAMP REGISTRATION
Field camp has always been out of phase with the traditional semester system — neither Spring nor Summer. This has lead to inconsistencies in registration, withdrawals and cost. In the future, field camp courses will be "Part of Term" courses — basically a "special" semester that coincides with the actual dates for the classes. As a consequence, registration for the 2018 field camp courses will depart from past practice requiring some adjustments on the part of advisors and advisees taking field camp.
Field camp courses will ONLY be listed as part of Spring semester registrations.

There will no longer be an option for Summer Session registrations for field camp.

This means that the

field camp credits will count as part of the Spring tuition load.

This can be beneficial, but it can lead to additional upfront costs if the load exceeds 18 credits.
Students qualified for financial aid must visit the Financial Aid office

before the close of regular Spring registration to assure maximum benefits.
Registration for field courses will NOT end with the close of registration

for other Spring courses, but will instead remain open through April 14, 2018.
Registered

students may drop

(with full refund of fees and extra tuition)

field courses through April 18, 2018

Students may withdraw (fees and tuition not refunded) according to the following schedule:

ERTH 483 — May 28
ERTH 484 — June 12
ERTH 480 — June 15
ERTH 485 — June 26
Information for:
---
NMT Geology Field Camp Photo Album