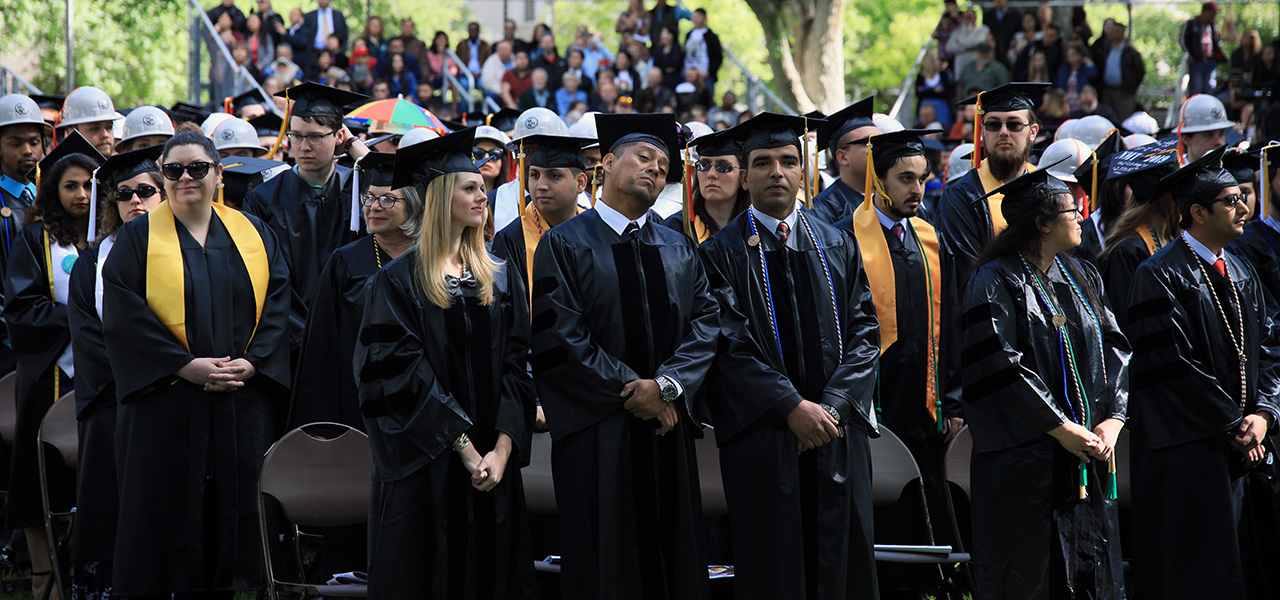 Instructions on how to present defense via video conference
Defense via Video Conference
M.S. and Ph.D Defense using Zoom
---
Initiating the processs
Congratulations at reaching is very important milestone. This page contains important information as you are preparing for your defense.
Please contact the graduate office by email as soon as you decide on your defense date and time

In the same email please




include emails of all your committee members

identify your academic advisor and your research advisor

title of your thesis or dissertation

Zoom meeting ID

An electronic signature process will be started by sending the following document to you, your committee and your department chair (these documents are for your information so you know what will be send and help you prepare. Don't fill those ones out as they will be routed electronically. You will receive an email with the appropriate document when it is time to fill them out)
Signature emails will start sequentially with you being the first on the list to populate and sign certain fields
Important Security Settings and Useful Suggestions
Ask your Advisor to set up the meeting and add you as co-host.

Try to have your advisor or a good friend run the zoom meeting so you don't have to worry about muting/unmuting etc. Make sure that the audience is muted upon entry.

Have attendees in a waiting room.
Disable screensharing except for yourself and the host.

Lock the meeting once your defense starts to avoid people entering at random times.

Send your committee your presentation before the meeting and ask them for a way to contact them by phone. Worst case scenario there is a problem with the connection and you have to call them them.

Ask your advisor to introduce you and explaining the process to the audience.

Zoom has a nice feature of putting the shared screen and the speaker side-by-side. You can suggest that to the attendees. This is accomplished by pressing the view options which shows at the top of the screen, then select side-by-side. After that the audience can select speaker view from the top right corner.

After your presentation, have the moderator ask the audience to use the raise hand feature if they have any questions.

Once the open questions are over, you can put the committee in a breakout room with yourself so that they can ask you questions in a closed format. Then you can leave and they will remain in the breakout room to make their decision.
Scheduled Defenses
For security reasons, some random numbers in the zoom id will be spelled out to make it harder for crawlers to automatically grab ID and potentially falling victim to "zoombombing"
March 30th, 2020 – 2pm-3pm MDT
Kelly Farewell
Master of Science for Teachers
April 1st, 2020 – 12pm-1pm MDT
Study of Heterogeneous Chemistry & Photochemistry of Atmospheric Aerosols: Impact of Mineralogy on Ocean Fertilization, Human Health, and the Greenhouse Gas Mitigation
Eshani Hettiarachchi
Chemistry (PhD)
April 1st, 2020 – 1:30pm
Comparative Analysis of Visual Note-taking to Traditional Note-taking
Erin Gaddis
Masters of Science for Teachers
April 3rd, 2020 – 3pm-4pm MDT
The Effects of Incorporating the Four C's of 21st Century Skills into the Secondary Mathematics Classroom
Jamie Silva
Master of Science for Teachers
April 10th, 2020 – 3pm-4:30pm MDT
Development of C3R Skills among Middle School Science Learners through Experiential Learning with Interdisciplinary STEM Integration in the Unit of Force
Ivy Alefante
Master of Science for Teachers
April 17th, 2020 – 1pm-2pm MDT
Modeling Deformation Processes at Mount Erebus, Antarctica, using GPS Observations
Emily Snyder
Geophysics (MS)
ID: 23two 4three0 0five8
passcode: 03nine840
April 20th, 2020 – 1pm-2pm MDT
Paidiea Methodology and Student Achievement in Chemistry
Randall Werre
Master of Science for Teachers
ID: 9three5 94two9 37six0
April 23rd, 2020 – 3pm-4pm MDT
JoAnn Salome
ID: 9four0 57two3 6seven27


For more info
The Center for Graduate Studies hours of operation are Monday through Friday 8am - noon and 1pm - 5pm Mountain Time. You may reach us by phone at (575) 835-5513 or email at graduate@nmt.edu.