'Cannapreneur' Transdisciplinary Course Descriptions
---
April 1, 2022
'Cannapreneur' Transdisciplinary Course Descriptions
Computer Science
IT 347 Full Stack Web Development, 4 cr, 3 cl hrs, 2 lab hrs
Prerequisite: CSE 122, Algorithms and Data Structures
Offered Fall and Spring Semesters
This course has a practical emphasis on the design and techniques for developing internet-based applications, focusing on both front end and back end design. Topics include client-side programming, relational models, relational query languages, and server-side programming. Course project involves working with a real world client to build a cannabis inventory management and retail website over LAMP architecture.
Chemistry
CHEM 2022, Chemical Analysis of Cannabis Preparations, 4 cr, 2 cl hrs, 3 lab hrs
Prerequisite: CHEM 311 Quantitative Analysis
Offered Spring Semester
This course will introduce analytical techniques useful for the study of cannabinoids and commercial cannabis preparations. Included will be techniques for the levels of THC and other psychoactive compounds. Analysis for pesticide residues and other adulterants is also presented. Levels of heavy metals are also examined.
Finance
FIN 302, Introduction to Financial Economics 3 cr, 3 cl hrs
Prerequisites: MATH 1510, MATH 1520, MATH 2350 or MATH 382
Offered Spring and Fall Semesters
Introduction to financial systems of the cannabis industry, financial management and planning, introduction to financial investments including debt, and capital budgeting models with examples of applications in the California cannabis industry.
Fine Arts
ARTS 0420 Beginning Glass Arts 1 cr, 3 cl hrs
Prerequisite: n/a
Offered Fall Semester
Fabrication techniques in hard glass, also known as borosilicate glass. Technical and aesthetic processes used in functional glass pieces, such as water pipes. Safe handling of kilns and equipment.
Management
MGT 335, Marketing of New Products and Innovations, 3 cr, 3 cl hrs
Prerequisite: ECON 2120; MATH 2350
Offered Spring Semester
Application of marketing theory and practice to developing new cannabis products and innovations. Focus on marketing early stage technology innovations and products from concept to implementation.
August 13, 2021

New Mexico Water Data Initiative 2021
(courtesy of NM Bureau of Geology)
https://www.youtube.com/watch?v=Jrce4A7uTzI
March 12, 2021

An homage to Christina Lochman-Balk
Dr. Nelia Dunbar reminisces - video
NM Geology (August 2006) In Memoriam article - pdf
February 26, 2019
NMT Advancement and Alumni Relations Office Wins Gold!
NMT awarded Gold at the 2019 CASE Region IV Accolades program
February 18, 2019
NMT Advancement and Research Foundation FY 2018 Annual Report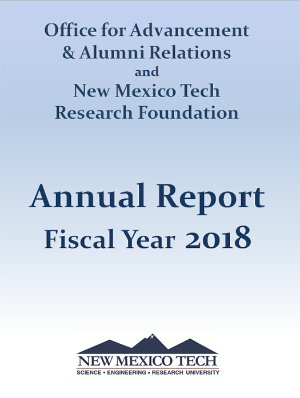 September 13-14, 2018
President's Golf Tournament 2018 Wrap-up
2018 President's Golf Tournament
August 17, 2018
New staff member!
Rachel Montoya hired as Alumni Relations Manager
July 9, 2018
Collaboration between NMT Research Foundation, the university, and its alumni base needed to carry Tech into the next decade and beyond