CHINOoK: Cascadia Hydrothermal circulation IN Oceanic (K)rust
This is a blog post from the CHINOoK cruise, written by members of the science party onboard from August 1 - 27, 2022.
August 1, 2022
Beginning a heat flow project on the R/V Langseth
posted by G. Spinelli
The R/V Langseth is named in honor of Marcus G. Langseth, a scientist who spent most of his 40-year career at Lamont-Doherty Earth Observatory. Although the ship R/V Langseth is primarily known for its work collecting multichannel seismic data (i.e. mapping subsurface geology by using air guns to generate seismic waves that reflect off of contrasting materials), as a scientist Marcus Langseth was a pioneer of marine geothermal research (studying how heat moves through and escapes from Earth). However, the R/V Langseth has not been used for a marine geothermal research project, until now. Today, we are loading personnel and gear aboard the R/V Langseth for the CHINOoK (Cascadia Hydrothermal circulation IN Ocean (K)rust) project.
Below: Photo of the heat flow probe being loaded onto the R/V Langseth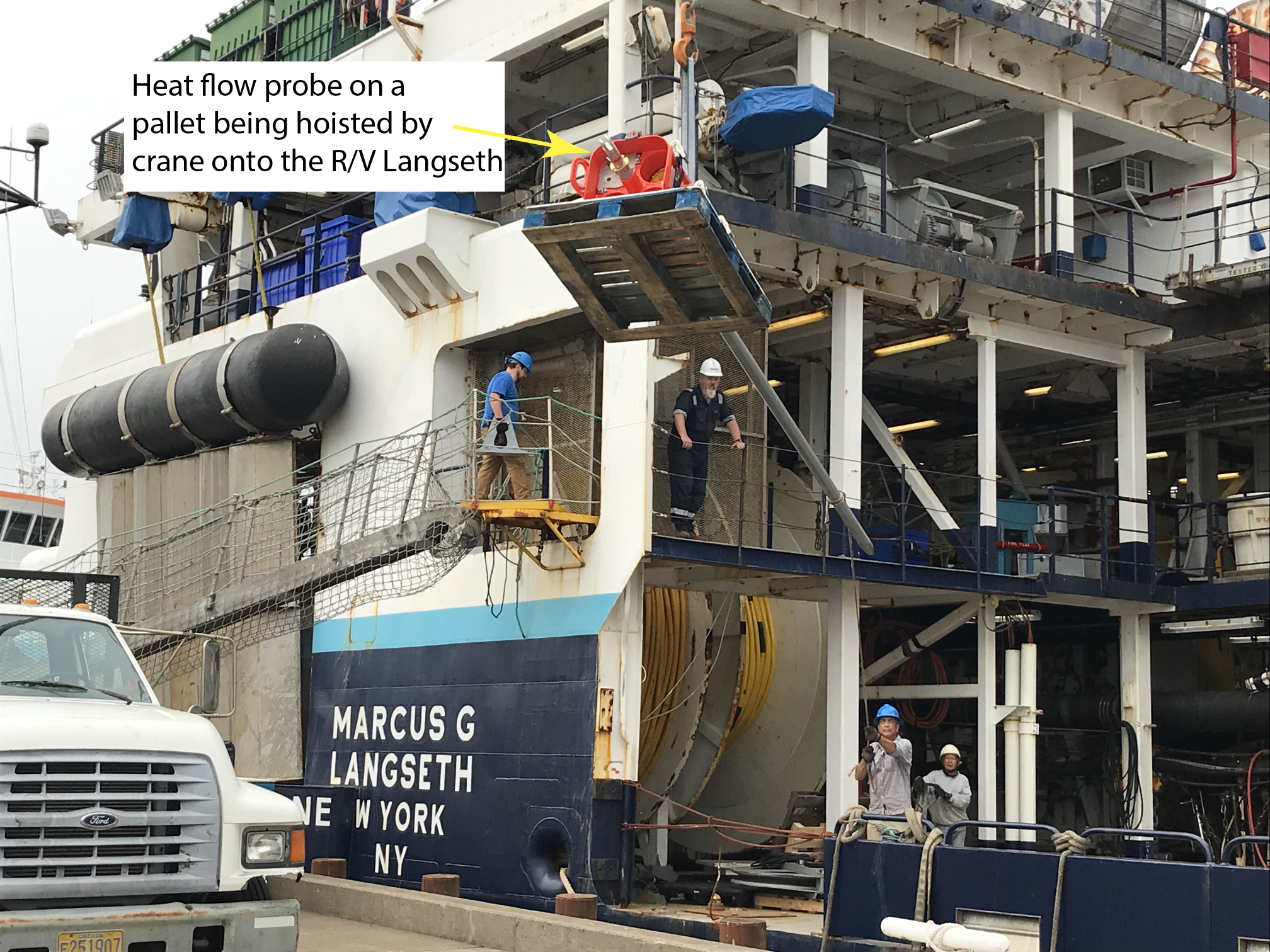 We will be using that heat flow probe to examine how heat flow through seafloor sediments varies spatially on the Juan de Fuca plate offshore Washington and Oregon.
Below: Photo of the R/V Langseth at the Oregon State University dock in Newport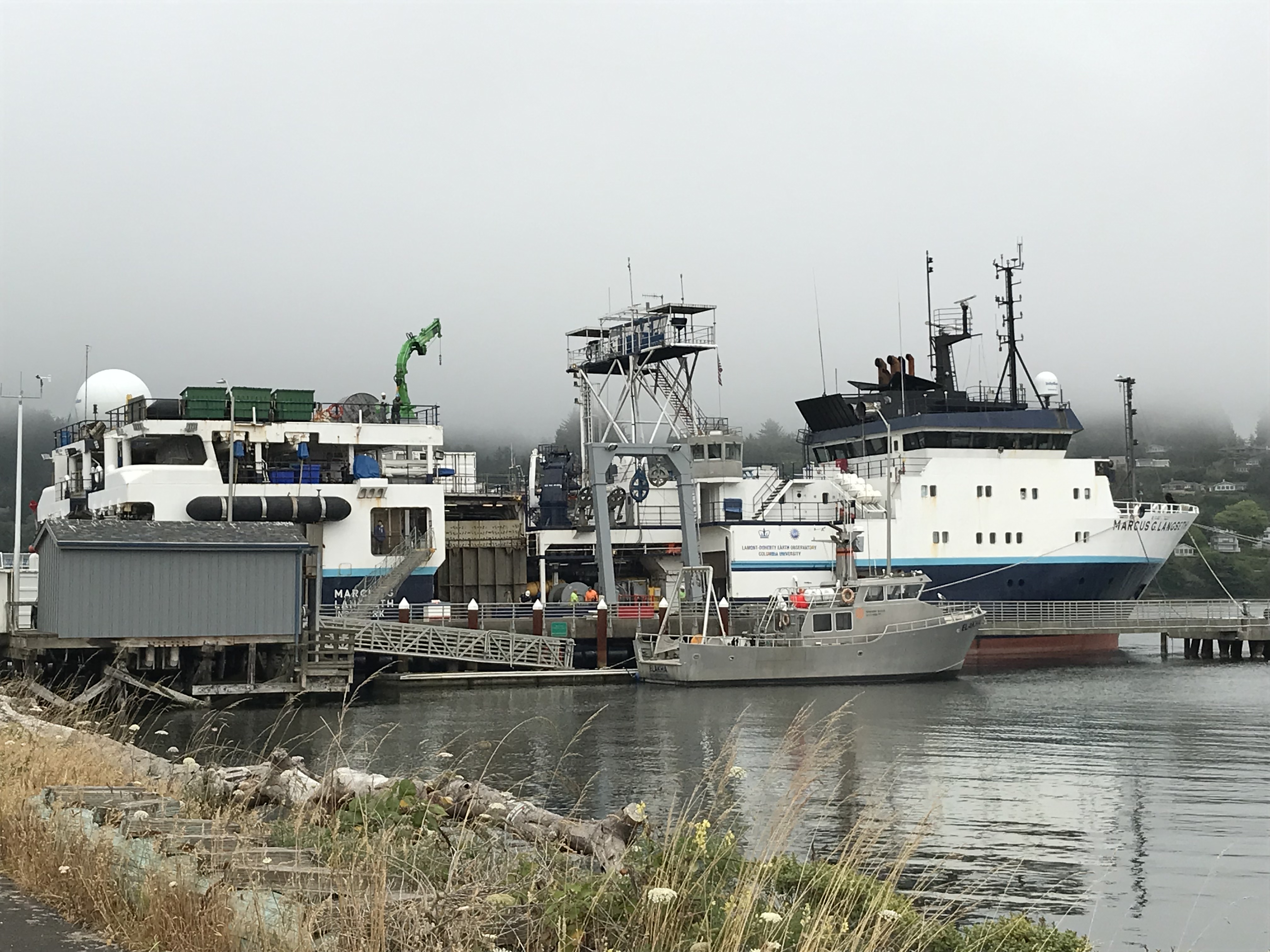 August 3, 2022
One last day in port
posted by G. Spinelli
Our final day in Newport is beautiful and sunny. We are completing preparation of the heat flow equipment, and computers in the main seismic lab. If all goes well, we will be leaving port early tomorrow morning.
Below: R/V Langseth and other research ships docked in Newport.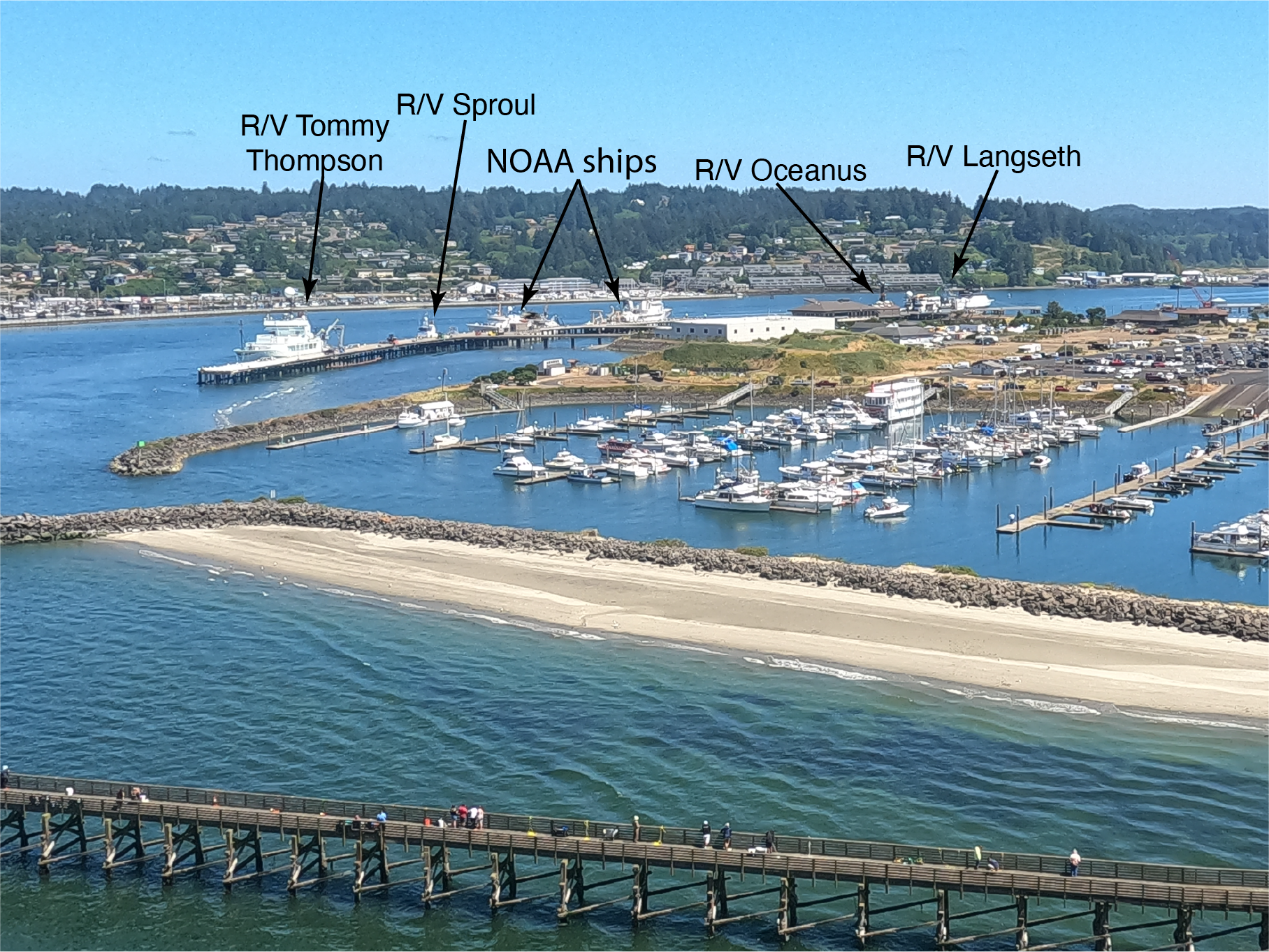 August 5, 2022
First full day at sea
posted by G. Spinelli
Yesterday morning, we left Newport and spent much of the day transiting to Nubbin Knoll, an isolated outcrop of basaltic basement rock (the nearest known outcrop is ~50 km away). We began collecting seismic reflection profiles across Nubbin Knoll yesterday afternoon. Today, our first full day at sea, we are completing collecting those seismic profiles in order to determine the distribution of sediment on and around Nubbin Knoll.
The photo below shows science party member Matt Perry, either:
a) watching for wildlife while we collect seismic data,
b) contemplating the meaning of life, or
c) wondering why he signed up for this shortly after completing his first midnight-to-8 AM shift of the cruise.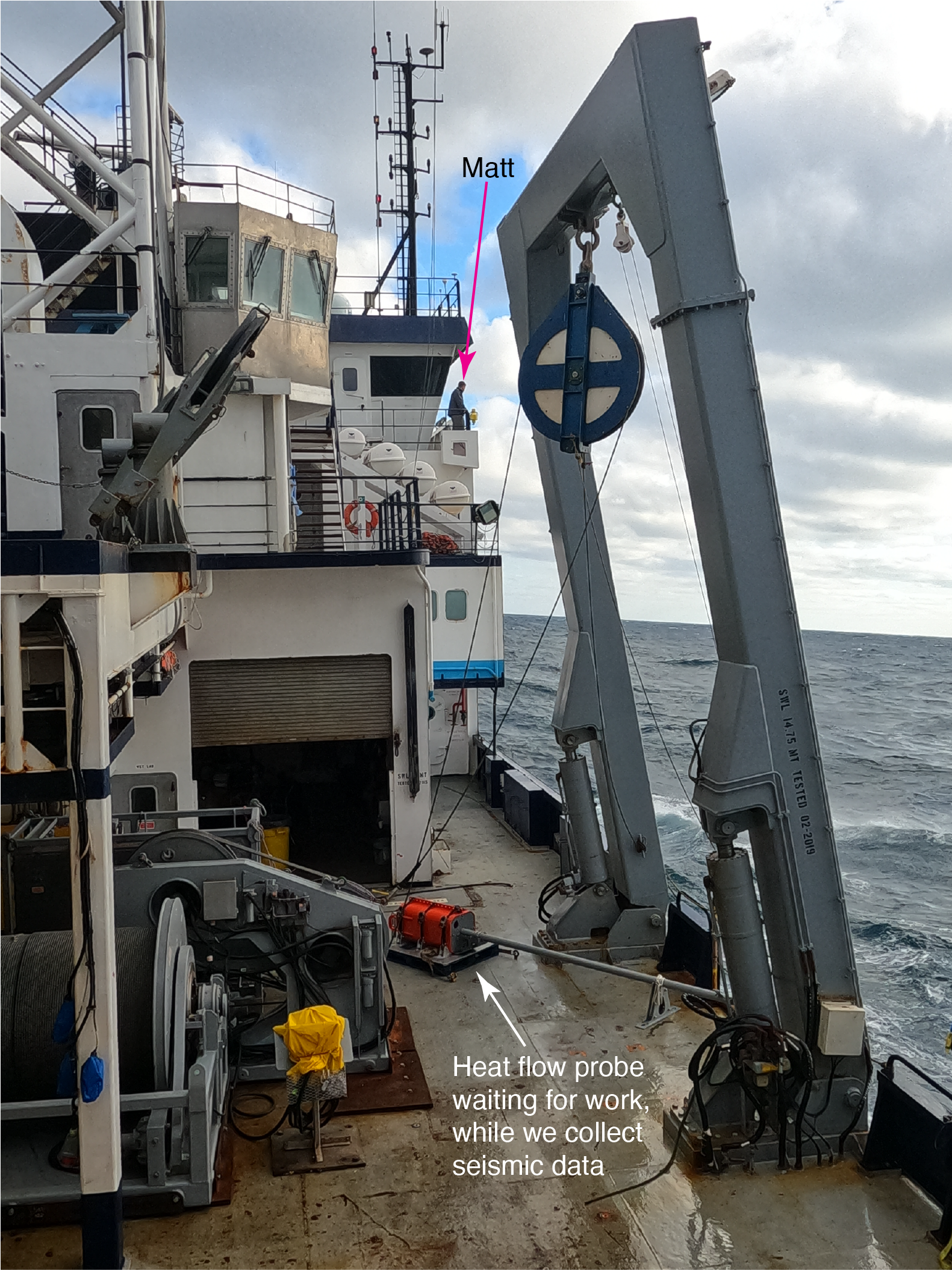 August 6, 2022
First seismic data acquistion
posted by C. Stanbury
Ahoy!
It is a beautiful second day at sea here in the north Pacific Ocean! There is no land in sight, we are about 75 miles from the coast. Today is sunny with slightly cloudy skies, light wind, and (at least) a 6 foot swell. The 6 foot swell has gotten to 4 people in the science party, but I have yet to succumb to sickness (*knock on wood*). There are a total of 15 people on the science team. Including the crew, the boat is occupied by about 45 people.
We left Newport at 7am Thursday with 8 hours transit to our first site, Nubbin Knoll. Just as we were leaving the harbor I saw a pod of dolphins escorting the boat to sea and took them as a good omen for our journey. The swell on the way out was about 3 feet, which was enough to make me realize that I do not naturally adapt to sea legs. I have been bumping into walls and doorways and am thankful for the multitude of handrails. Half way through our transit we had a fire/disaster drill and gathered at the muster station for a head count and a life raft demonstration.
At 4pm on Thursday my first shift began! We let out the seismic streamer behind us, attaching Digibirds every 150 meters.
*Science summary* The goal of going to Nubbin Knoll is to determine the distribution of sediment on and around the knoll. Nubbin is an isolated outcrop of basaltic basement rock. The seismic streamer is a 900 meter long line of electronics and sensors that helps us record seismic data and map the bathymetry of the ocean floor. Digibirds are electronic sensors that look like red birds. There is another line that goes out with two air guns. These guns shoot 500-2000psi air in bursts in the ocean every 5-8 seconds, we use these shots to determine the depth of the seafloor.
The first part of my shift involved getting the streamer in the water. This required that I stand with a clipboard next to the streamer and check serial numbers before the digibirds were attached and sent overboard. Arif, one of my fellow science party members, told me I looked like a real engineer with my life vest, hard hat, and clipboard. I liked the sound of that. Then I was on log and gun duty. This meant I made an entry in our electronic log every time a piece of machinery was deployed or recovered (the airguns, the magnetometer, the streamer) and activated the air gun and air gun log when I was cleared to do so.
The clear came from our PSO's, our Protected Species Observers. This is a group of 5 women who watch for whales and seals and the like from the birds nest above the boat.
Photo below: Deploying the head buoy (or a submarine for squirrels?)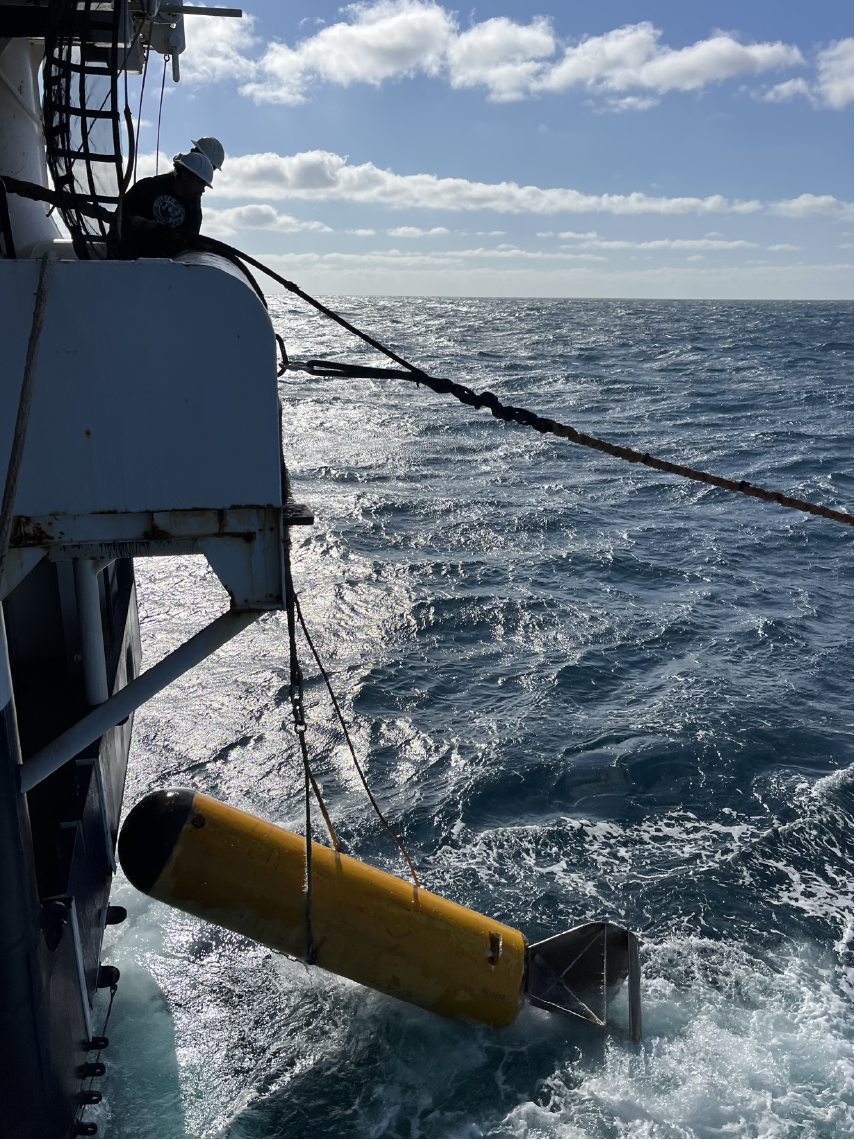 August 7, 2022
First heat flow measurements
posted by G. Spinelli
After spending a day collecting seismic reflection profiles around Nubbin Knoll and another day wrestling with some technical issues with the heat flow probe, early this morning (shortly after midnight) we made our first successful heat flow measurement. What a relief!
Photo below: Mandy Kiger, Rob Harris, and Ben Russell prepare the heat flow probe for deployment (photo credit: Danqi Jiang).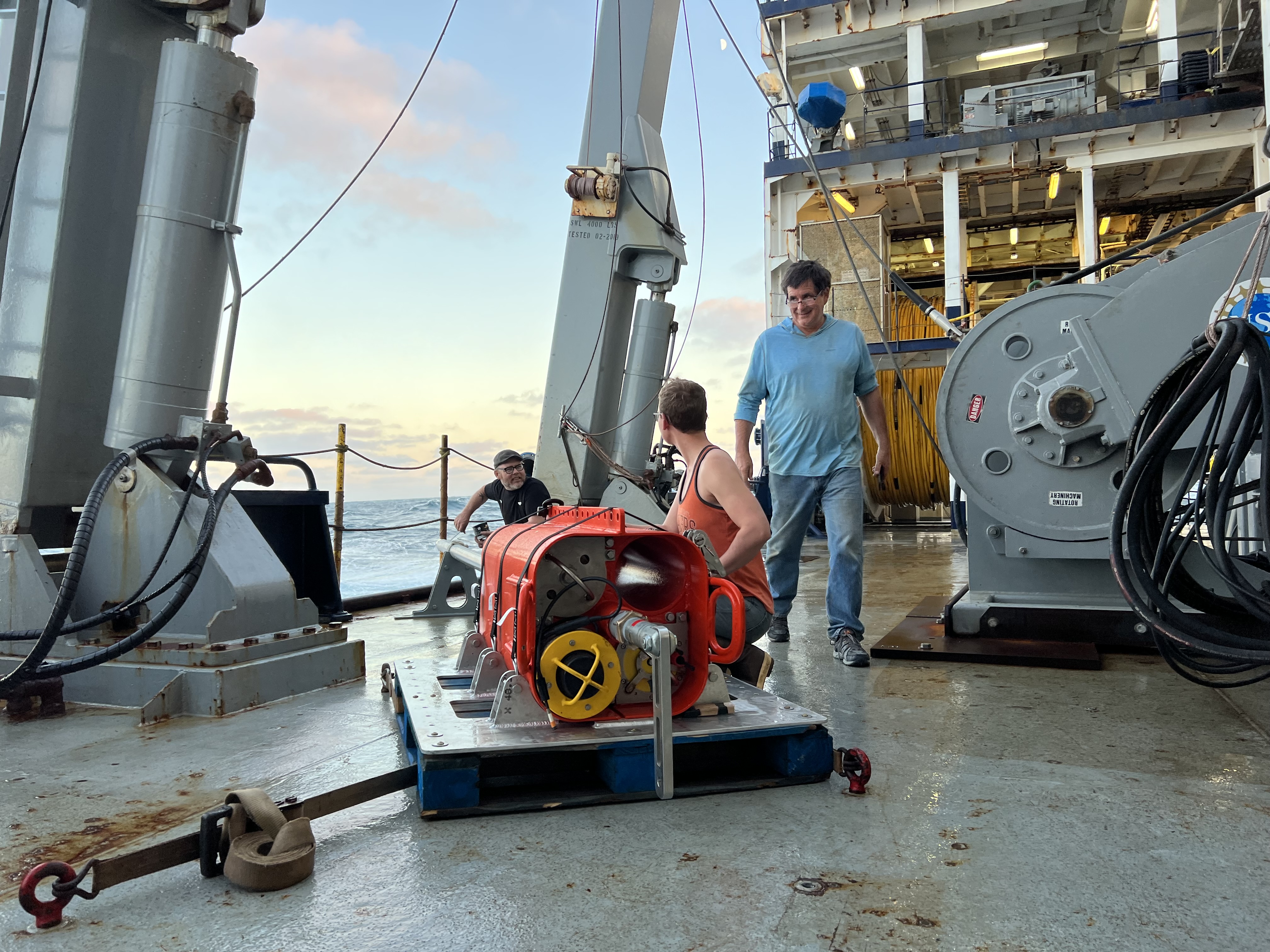 August 10, 2022
Avast ye!
posted by C. Stanbury
Great news! My sea legs have arrived. The number of boat related bruises I have accumulated is slowly decreasing. What joy!
Today marks exactly 1 week that I have been at sea. Things I have learned:
"Dogging" a door means to close it with levers that can be used to open it on either side.
When your cabin has no windows, it is important to set an alarm.
This boat is very loud. It is about 30 years old and working hard! Earplugs are a must.
I read faster at sea. I have finished all 4 of the books I brought! (A History of Wild Places by Shea Ernshaw, Snow Crash by Neal Stephenson, Handmaid's Tale by Margaret Atwood, and The Testaments by Margaret Atwood) Time to dip into the ship's library.
As for data collection: first we collected seismic data at the Nubbin site. Nubbin has an exposed basement high that looks like a little hill or nub above the seafloor, hence 'Nubbin'. Our seismic reflections led to the discovery of a baby Nubbin in addition to the Nubbin we were expecting! (aka Nublette, 'lil nubbin, Nubino) We then went to the MARGIN site to collect heat flow measurements. After MARGIN, we returned to Nubbin (and the Nubster) for heat flow measurements.
*Science summary* To get heat flow measurements, we insert a probe into the soft sediments on the seafloor. The probe comes to a temperature equilibrium for 7 minutes, and then a heat pulse (of a known quantity) is shot through the probe. From there, we record the decay of the heat pulse through the thermistor string on the probe. This allows us to calculate a thermal gradient. When you combine the thermal gradient with conductivity, you get heat flow! We have had the chance to look at some of the data so far and preliminary findings suggest that the heat is about FOUR TIMES what we expect. WOW! We will have to do some error corrections and some brainstorming before I form any conclusion about those measurements.
After collecting heat flow data at MARGIN and Nubbin (and Nubito), we will transit to Pseudofault #2 for data collection; first seismic, then heat flow. We use the seismic reflections to map bathymetry (the topography of the ocean floor), which lets us to know where we want to put the heat probe.
And, I caught a fish! Sometimes transit between stations can take up to 2 hours, so Brian (a crew mate helping us with heat flow) brought out a fishing pole. At night the fish are often attracted by the spotlight that illuminates the water where the wire holding the probe is. At first, I thought they were tuna or mackerel, but someone identified them as round scud. On my second cast I hooked a big one and reeled it in as best I could! I made sure not to let go (the only rule of fishing) and Tom (Masters student at NM Tech) grabbed the line to pull it onto the ship. My first catch! I think next time I would enjoy the activity more if I got to cook and eat the fish afterwards.
Another exciting animal spotting happened under the spotlight on my shift. A blue shark was spotted lazily cruising the waters near the probe. Everyone in the vicinity heard the excitement. " SHARK!! SHARK!!" Unfortunately, no pictures were taken. The shark commands the respect of the paparazzi.
Signing off for now.
Below: Clara being very helpful, handing a wrench to Cody during deployment of seismic gear.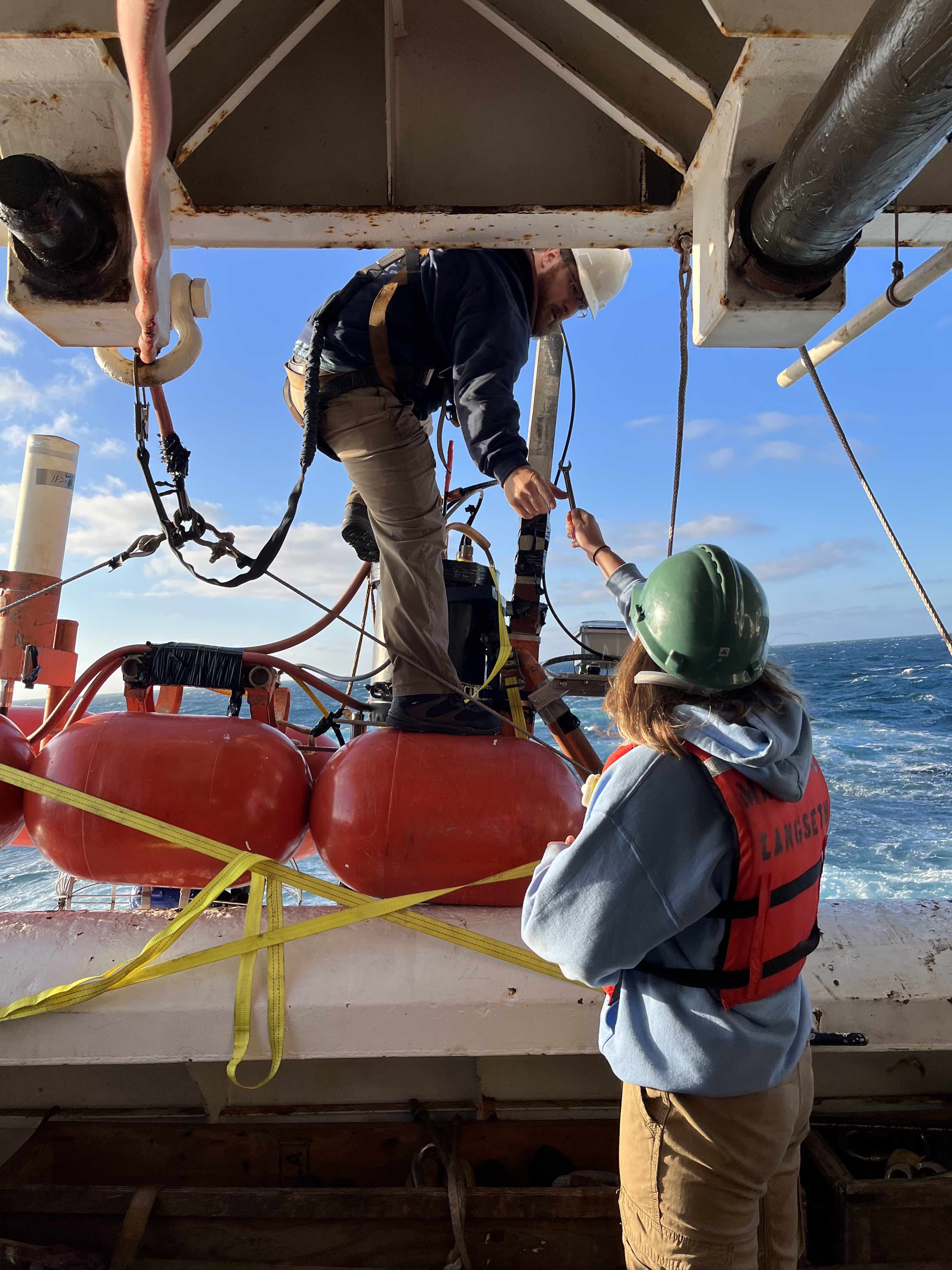 August 13, 2022
A respite from the rattling
posted by G. Spinelli
Today, we shifted from collecting heat flow data to collecting seismic reflection data. When we collect heat flow data, the crew needs to hold the ship's position very precisely (sometimes fighting strong winds and currents). To do that, they use a bow thruster. When the bow thruster is working hard, the interior of the ship rattles. Now, the bow thruster is taking a rest, while we cruise forward at a steady 4.5 knots to collect seismic data. The science party and crew alike are enjoying a little respite from the rattling of the bow thruster (until we begin collecting heat flow data again in a couple days).
The photo below (credit: Ben Norvell) shows the top of the Langseth's bridge, illuminated by the setting sun over Ben's shoulder.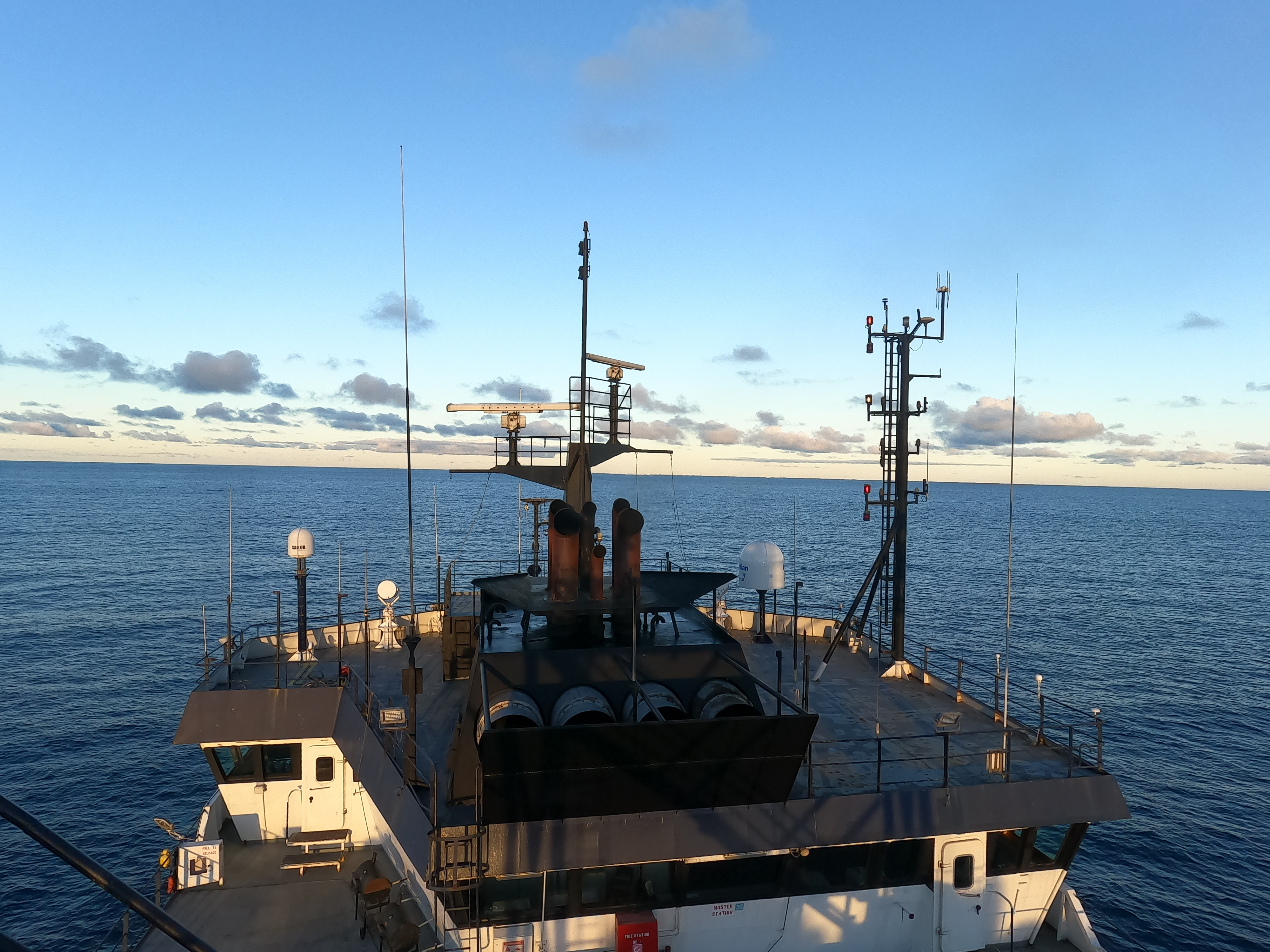 August 14, 2022
Waterskiing weather
posted by G. Spinelli
The mighty Pacific Ocean looks like a calm lake today. The photo below captures the full extent of the streamer of hydrophones we are using to collect seismic reflection data -- on a very flat Pacific Ocean. We are enjoying the beautiful weather while we have it (even if we don't have a chance to actually waterski out here). The wind and waves are forecast to pick up later this week.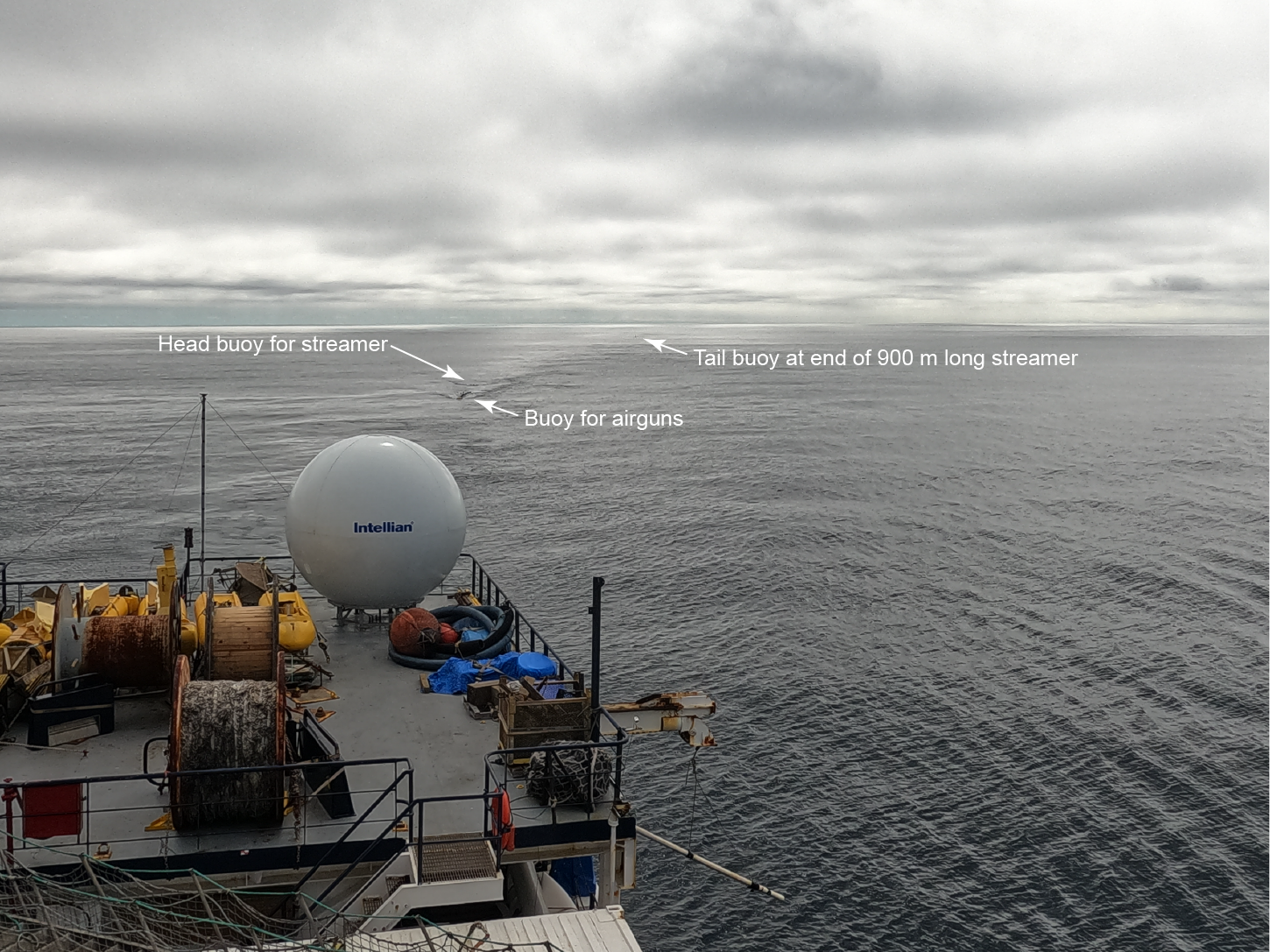 August 18, 2022
Screen time
posted by G. Spinelli
Are you concerned about your kids having too much screen time? Then, whatever you do, don't send them to the R/V Langseth! The photo below is the main lab for when we are collecting seismic reflection data (photo credit: Aldiyar Mukhatzhanov).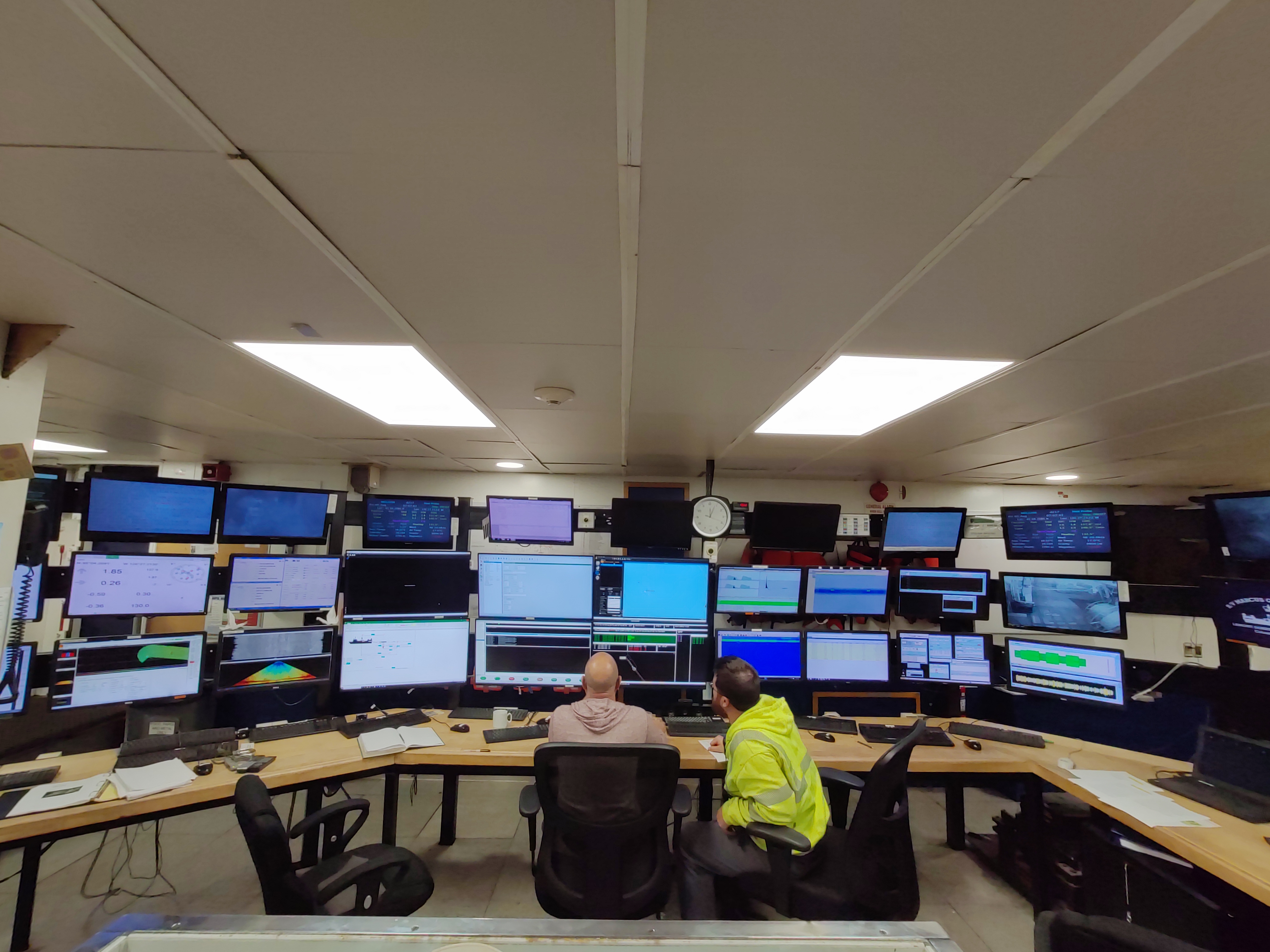 There are monitors to keep track of: the state of air guns providing the seismic source, the depth of the streamer of hydrophones recording the data, the position and track of the ship, wiggle traces seismic data being recorded on individual channels, the status of the data stream and its recording, the multi-beam swath bathymetry that provides high-resolution data on water depth allowing us to make nice maps of the "topography" of the seafloor, and more.
If you have a child who is only allowed 1 hour of screen time, they could get it all after 2 minutes in the Langseth main lab.
August 19, 2022
Back to port ... a bit early
posted by G. Spinelli
We are back in Newport, a bit earlier than planned. The Langseth had some mechanical issues that brought our cruise to an earlier end than intended.
The photo below shows the science party and the group of protected species observes as we are getting back into Newport's harbor.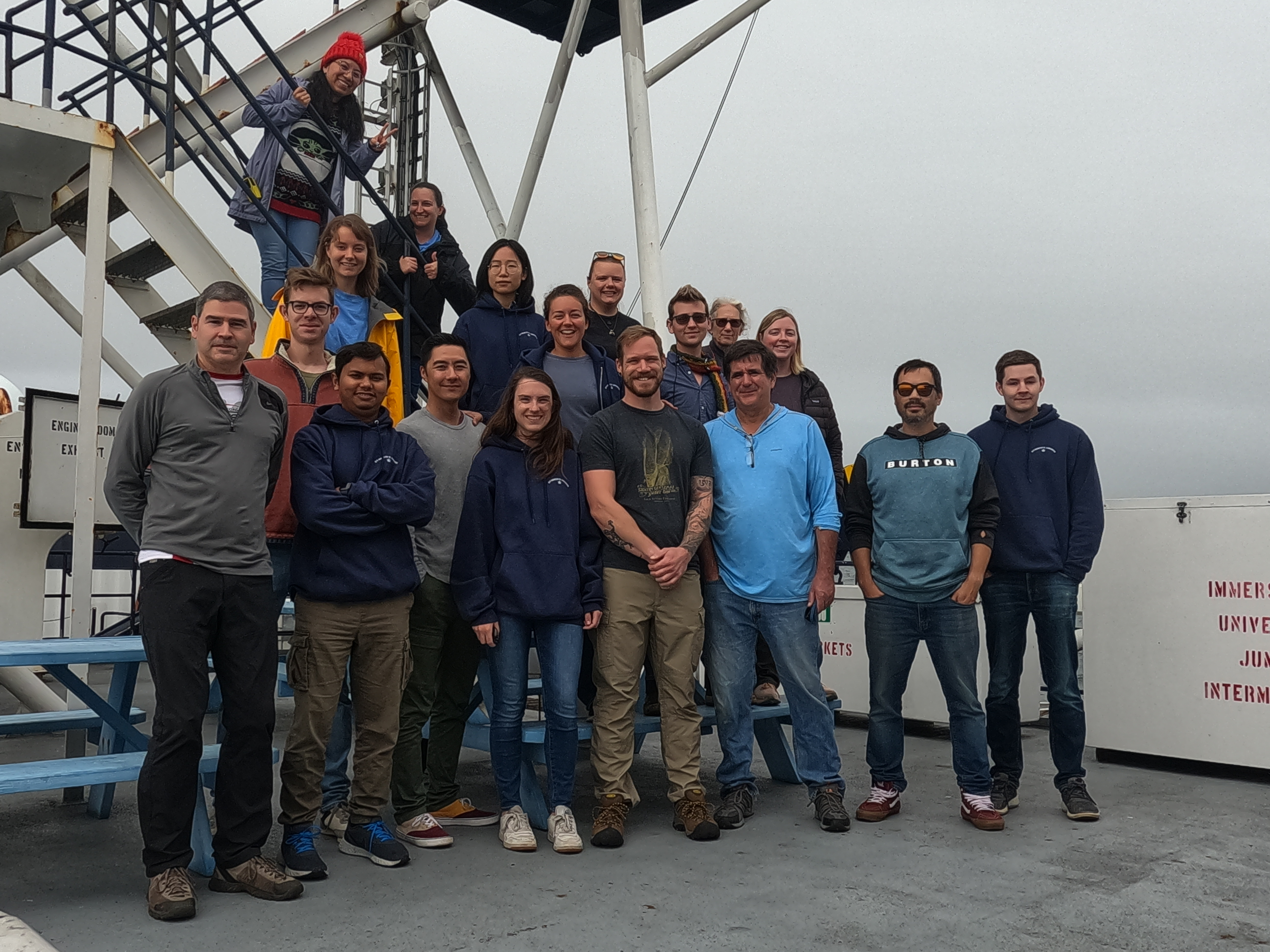 We are excited about the seismic reflection profiles and heat flow data that we were able to acquire during the cruise. There are some very interesting things to unravel and stories to tell based on the data. Those data also help to raise a series of new questions — some of which we will hopefully have a chance to answer in a subsequent cruise.