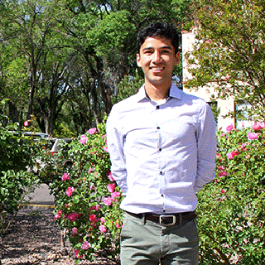 Jared Lam '18
The availability of research opportunities is what brought me to NMT in the first place, and I expected to take advantage of these resources
---
A junior in environmental engineering, Jared Lam's Macey Scholar nomination was supported by Dr. Kip Carrico and Dr. Frank Huang.
A native of Socorro, Lam attended UNM for 3 semesters before transferring back to Tech. "The availability of research opportunities is what brought me to NMT in the first place, and I expected to take advantage of these resources," Lam wrote. "I didn't explect that I'd also have the opportunity to explore a myriad of other resources during my NMT experience."
Lam has been involved in student clubs, part-time jobs, leadership positions, and networking. He has been involved in the Environmental Engineering Club, Tau Beta Pi, QuASAR, and Techies Stand Up. In addition to research work, Lam has also worked at Animal Haven Veterinary Clinic and the NMT Travel Office.
His initial research experience was with Dr. Huang membrane processing course. He later joined Dr. Carrico's directed study research. He is currently using a nephelometer, which measures light scattering by aerosols in ambient air. He will continue that work this summer at LANL with Carrico this summer.
Huang wrote that Lam volunteered to do research during his first few weeks on campus.
"I was impressed by his commitment to enhance his knowledge base and therefore invited him to take a graduate-level course," Huang said. "Jared has good technical foundation, excellent work ethic, and good communication skills. He is also dependable and very much a team player."
Carrico said Jared was a top student in his intro course and mas mastered every challenge given to him – homework, tests, writing, field measurements, and presentations.
"He is always engaged, involved, and on-time or ahead of schedule," Carrico wrote. "I used his homework assignment as the model for the class of how an engineer approaches and solves problems in a methodical manner. … what has been even more impressive is his zeal and initiative in the lab. … A remarkable note regarding Jared is he is equally capable with hands-on work, something rarely seen with undergraduate students. He was a natural from his first day working in the lab."
Lam has been interacting with senior level scientists at NOAA in Boulder and engineers at the instrument vendors. Carrico said he only had to provide minimal input when Lam was learning how to use lab instrumentation.
"I believe he has a bright future in the environmental engineering field and is fully capable of pursuing a research science career. … I think he has the raw intellect to become one of the top climate scientists, which seems to be a strong interest of his," Carrico wrote.