---

Showtime: 3:00-7:00pm
Location: Macey Center Parking Lot by RSVP or
show up in a car, on foot or bike, and sign-in
Online Location: Facebook ; YouTube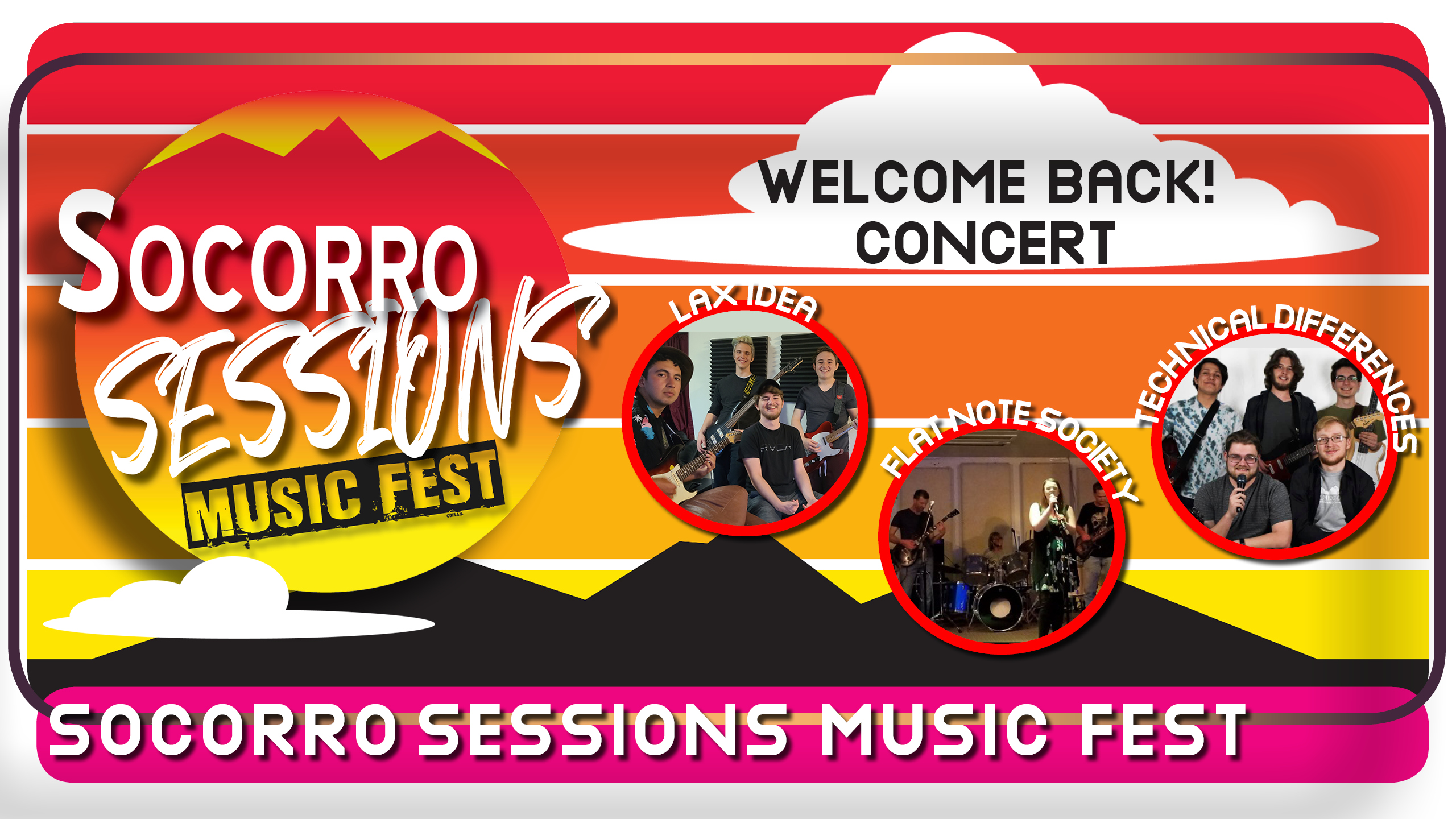 About the Show
SOCORRO – (Press Release) The times are uncertain as New Mexico Tech welcomes students for the fall semester. But one tradition remains constant: The university's Performing Arts Series (PAS) will continue to offer great music.
After a summer hiatus, the season's first concert will "Welcome Back" students back after the first week of classes. The Socorro Sessions Music Fest will be drive-in, and walk-in, COVID-19 style (meaning, if you come and did not rsvp, please sign-in for contact tracing purposes), starting at 3 pm on Saturday, Aug. 21 under the solar paneled parking lot at Tech's Macey Center. For this first concert, attendees are welcome to attend tail-gate style to set up next to your car, or walk-in--there will be some chairs set up, or you are welcome to bring your own.
The concert is FREE, but attendees must pre-register online (form at nmt.edu/pas) or by email pas@nmt.edu or call PAS at 575-835-5688. If you forget to rsvp, just come and sign in! The afternoon is designed to have a "tailgate party" feel to it. Each vehicle will be assigned a numbered spot with plenty of space to set up table and chairs. There will be a food truck: Cubish, and attendees are also welcome to bring food and nonalcoholic beverages too. Walk-in and bike spaces will also be available.
The afternoon features three local bands, one of which is new to the PAS line-up: Lax Idea is a foursome of Tech students playing a mix of indie and alt-rock covers with some punk thrown in. They also have worked up a few original pieces they will showcase that afternoon. Chris Roy, guitar and vocals, and Russell Durham, on drums, were suite-mates, said Chris, who wanted to form a band. They added Jackson Vaughn Furr, bass and vocals. And Jackson, "met David Padilla on campus and found out he was an experienced guitarist," said Chris.
Chris said he comes up with the main ideas for originals, which he brings to the band to develop. "The songs are then mostly made up of choices like 'what if we did this' and 'let's see if this works.' In general, there isn't a set way we do it. We just end going in a direction that we find fun.
"We all bring in influences from different genres of music so the songs end up in unique directions," Chris added. Chris and Jackson are Computer Science majors; Russell is a Chemical Engineering major and David majors in civil engineering. The band's name, said Chris, "was originally 'Fundamental Lack of Idea' because we felt it represented us well, but we later shortened it to Lax Idea."
Flat Note Society is up next playing their versions of classic, modern rock and originals. The group played at the PAS-sponsored Socorro Sessions Fest in October and the 4th of July Celebration; and two members, Colleen & Dylan played at WomenFest. Members are Colleen Gino on vocals, guitar and drums; Dylan Etscorn, bass and drums; Will Eveleth, guitar; and perhaps a secret person on a secret instrument; Shelbi Etscorn, lead singer and ukulele cannot make this gig but we'll see more of her in the future! The group is anything but flat note, as those who have heard them before know well.
Rounding out the afternoon is Technical Differences which first played at last April's Socorro Sessions. Comprised of engineering and physics majors at NM Tech, the four (plus former lead singer Joshua Gibbs, who will come up for a couple songs) offers a variety of classic and alternative rock in their own style. They are Andrew Wang, guitar; Seth Sisneros, guitar and vocals; Keith Lucero, bass, clarinet, vocals; and Kody Gray, drums and mellophone (a marching-band version of the French horn). They had been jamming together for a time when Keith saw a note that PAS director Ronna Kalish was looking for bands to perform. When he asked what was required, he recalled, "she said, 'you have the gig.'" That gave them "24 hours to come up with a name and an official photo." For inspiration, they turned to their textbooks, deciding on the name "Technical Differences." Along with songs by Bob Dylan, Gordon Lightfoot, Scorpions and 4 Non Blondes, they will play some original tunes.
Yes, the future will always be uncertain. But in these times, when it seems like everything is debated, there's no argument that PAS offers good music at surprisingly affordable prices. For more information, and to see the full season's line up, visit nmt.edu/pas.
Our Partners and Sponsors