New Mexico Tech Electrical Engineering Student Earns Scholarship
Nov. 9, 2022
---
Program to promote minorities in STEM careers helps student find her career path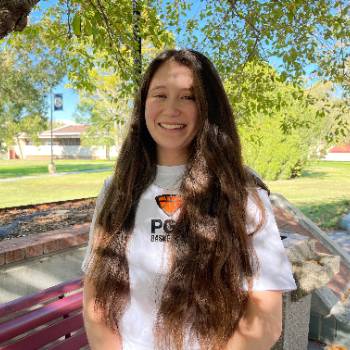 SOCORRO, N.M. – A New Mexico Tech electrical engineering student who just a few years ago didn't understand what engineering was all about was recently awarded a scholarship and completed an internship, both of which are helping her find a career path. Eryn Jaramillo, who will graduate in May 2023, received a $5,000 scholarship as a participant in the National Nuclear Security Administration Minority Serving Institutions Internship Program (NNSA-MSIIP).
NNSA-MSIIP provides paid opportunities for university students enrolled at minority-serving institutions – including New Mexico Tech – pursuing degrees in critical science, engineering, technology, mathematics, and other disciplines that complement current and future missions of the NNSA.
"Well, I'm Hispanic, female, and in STEM, so I'll apply," Jaramillo said she thought to herself when she was encouraged to apply for the scholarship.
It was just a few years ago as a student at Belen High School that Jaramillo said she enjoyed math classes but never took coding or STEM classes or really understood what engineering entailed. Once she arrived at New Mexico Tech, she was exposed to many different engineering fields and started out in mechanical engineering.
"It was really eye opening when I got here," she said. "We were doing a project and I really enjoyed the electrical part of it, so that's why I ended up switching to electrical engineering."
Last summer Jaramillo interned at Honeywell's Albuquerque sub-plant office as part of a partnership between the company and MSIIP. She assisted with its program to build non-nuclear materials for the safekeeping of nuclear weapons. Because she enjoys the work and agrees with the company's mission to help keep America safe, she continues to work part time remotely and plans to work full time for Honeywell after she graduates.
"It was a really good work experience," she said. "The company treated me well. They really want me to learn. That's what I really enjoy about that company – their willingness to let me learn new things."
During a trip to Honeywell's headquarters in Kansas City in August to give a presentation on the project she worked on over the summer, Jaramillo learned about her scholarship award. Besides her internship and part-time work for Honeywell, Jaramillo has been active at New Mexico Tech in multiple engineering-related professional societies and organizations, including Tau Beta Pi engineering honor society, the Electrical Engineering Club, and the Institute of Electric and Electronic Engineers (IEEE) student chapter.