Top Awards Announced at 2018 Commencement
May 12, 2018
---
Matt Davenport wins Brown Award; Thomas Dearing and Kari Erickson win Cramer Awards
Saturday, May 12, 2018
SOCORRO, N.M. – The top student awards for the Class of 2018 were announced at the commencement ceremony on Saturday, May 12.
The top award – the 2018 Brown Award – went to Matt Davenport of the Chemical Engineering Department. The Cramer Awards for the top male and female engineering students, went to Kari Erickson of the Computer Science and Engineering Department and Thomas Dearing, of the Physics and Math departments.
The Brown Award is named in honor of Mr. C. T. Brown, who was for many years a member of the Tech Board of Regents. It is presented to the member of the graduating class who, in the opinion of the Faculty, ranks highest in scholarship, conduct, and leadership. The award consists of a plaque and a prize of $1,000 dollars.
The Cramer Awards were established to honor Tom Cramer, an engineer and a member of the Tech Board of Regents for 26 years. They are awarded to the male and female seniors graduating in engineering who rank highest in scholarship. Each recipient receives a certificate and a cash award.
Matt Davenport
Davenport impressed professors and staff members from across campus with his academic abilities, but what truly sets him apart is his personal qualities.
Davenport has been a campus leader in many aspects, notably his willingness to help his peers,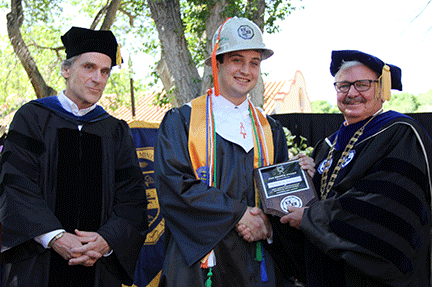 stay involved in campus activities and his calm demeanor. He is known for being dependable, mature, and kind.
(Pictured at right: Matt Davenport with President Stephen Wells (right) and VP Doug Wells.)
Davenport served as a learning coach in the Living Learning Communities, mentoring freshmen. He volunteered as a tutor in the Office of Student Learning, where countless students would show up, specifically looking for Matt. Early during his time at Tech, he resurrected the Chemical Engineering Car team.
He was also part of the Chemical Engineering Jeopardy team that qualified for the national competition and finished second. The following year, Davenport was the only Tech student to attend the AIChE regional conference, so he competed in the Jeopardy contest by himself – and still qualified for the national competition.
Davenport completed four summers of internships at Los Alamos National Laboratory. He was also a part of a winning New Mexico Tech team that competed at an app-building competition in Mexico earlier this year.
Davenport won the Macey Scholarship for his senior year, which is Tech's top academic scholarship. He was also named the Engineering Student of the Year for 2018.
When he's not studying, doing research, or mentoring other students, Davenport also finds time for music. He helped revive the NMT Jazz Ensemble and has periodically played guitar at Tech functions.
Davenport has been accepted into a Ph.D. program at the University of Texas at Austin.
Kari Erickson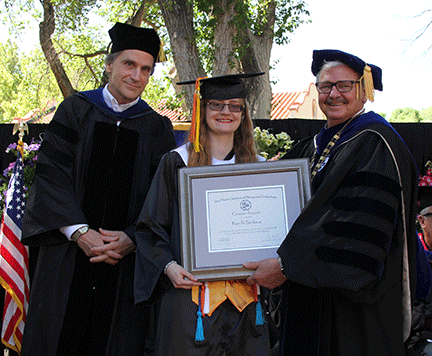 Erickson received her bachelor's in computer science with a minor in electrical engineering – and she did it in four years. A native of Albuquerque, she has stayed involved in department activities, club activities, and volunteer work, not to mention maintaining a stellar GPA.
(Pictured: Kari Erickson with President Stephen Wells (right) and VP Doug Wells.)
Erickson has worked as a tutor, the lead grader, and a system administrator in the Computer Science Department. She is a member of Tau Beta Pi, the engineering honor society. She has also served as the president of the student chapter of the Association for Computing Machinery.
Erickson has done internships at both Los Alamos National Laboratory and Sandia National Laboratories. She'll be starting her career at Sandia in the near future.
Thomas Dearing
Dearing received two bachelor's with two minors – a bachelor's in electrical engineering with a minor in optical science, and a bachelor's in physics with a minor in mathematics.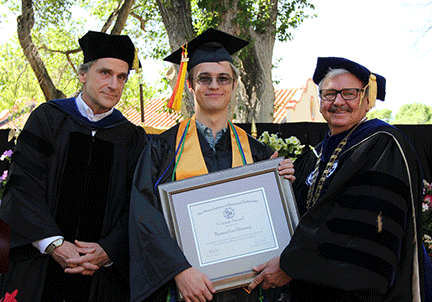 Dearing generally was considered the top student in every class he took at Tech. His instructors called his homework phenomenal and impressive. In addition to his academic prowess, Dearing earned a reputation as an excellent human being, always offering support and mentorship to students in physics and electrical engineering. He also lended a hand in a Psychology Department laboratory.
(Pictured at right: Thomas Dearing with President Stephen Wells and VP Doug Wells.)
Dearing has been involved in research at ICASA here on campus. He also finished a high-profile summer internship at Sandia National Laboratory, where they tried to give him a job straight away. He declined because he going to pursuing a Ph.D. in electrical engineering at the University of Colorado at Boulder.
Click here for the official 2018 Commencement program