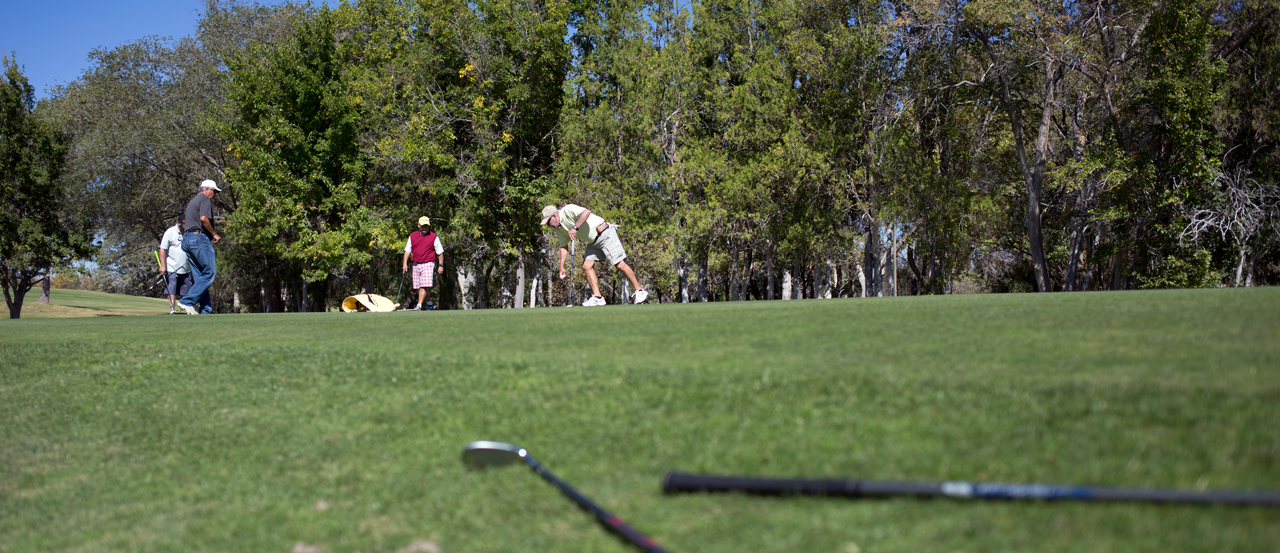 New Mexico Tech
Golf Course
New Mexico Tech Golf Course is open with limited tee times available. Tee times are required so make sure to use our Tee Times page or call the Pro Shop at 575-835-5335
The M Mountain Grill is open with limited indoor and outdoor seating available as well as to go orders. Place an order by calling 575-835-6736. View our menu items or our hours of operation on our Grill page.
Effective June 1st, 2021, due to the increase in play and the demand for carts, we will be limiting the carts to players only. Spectator carts will be available based on reserved tee times for the day.
singles and twosomes will be given one cart
Threesomes and foursomes will be given two carts
Fivesomes will be given three carts
Fivesomes will be allowed Monday - Friday and after 11 on Saturday, Sunday and holidays
Thank You,
NM Tech Golf Course Management
---
Welcome to the New Mexico Tech Golf Course, home of the Elfego Baca Shootout.
Enjoy the challenge of the New Mexico Tech Golf Course, located 73 miles south of Albuquerque on the New Mexico Tech campus in Socorro, New Mexico.
The golf course is an uncrowded 18-hole, championship layout of rolling hills, dramatic elevation changes, and dynamic views of the Rio Grande valley. GOLF DIGEST magazine named us "one of the 10 best public courses in New Mexico, and one of America's 500 best places you can play."
The tree-lined fairways serve as the site for the Elfego Baca Shootout, during the first week in June and the Annual NMT Presidential Golf Tournament in mid-September.
Temporary Hours of Operation
Last Bucket will be sold at 6:00p.m.
Driving Range will close at 6:30p.m.
No Carts after 6:00p.m.
All Carts must be in by 8:00p.m
Player Conduct & Etiquette
Golfers are asked to follow all NM Tech Golf Course policies and rules set forth by the Institution. Players are asked to repair all ball marks and replace all divots. Players who fail to adhere to any policy, or who willfully damage the golf course or any of its property will be advised that further abuses will result in forfeiture of golf course privileges. Consistent lack of courtesy for other players and actions which may tend to endanger the safety of others on the golf course, such as throwing clubs, driving the ball into groups ahead, etc., may also result in forfeiture of golf course privileges.
Trespassers, dog-walkers, bicycle-riders, joggers, etc. or any unauthorized persons will not be permitted to walk, ride, or rest on the golf course.
Collared shirts are preferred and appropriate golf attire must be worn at all times while on the facility. Tank tops, muscle shirts, or shirts with large holes, etc. are not permitted.
Golfers are responsible for any or all damage to passing vehicles, parked vehicles, or any damages that occur to another persons property while they are playing golf at the NM Tech Golf Course.