New Mexico Tech Students Launch Rocket Through Sound Barrier
April 18, 2018
---
Student-built Mustang 6B rocket reaches over 24,000 ft., Mach 1.27
UPHAM, N.M. -- The early morning sky over Spaceport America was pierced by the launch of a sounding rocket designed and built by students at New Mexico Tech in collaboration with White Sands Research and Developers, LLC (WSRDs) on Sunday, April 15.
The Mustang 6B rocket design was the tallest (10.9 feet), widest (6.1-inch diameter), heaviest (72.3 pounds) and most powerful (3,423 lbf.-s impulse) rocket that New Mexico Tech has flown. It is also the first flight of the Mustang 6B rocket which is designed to be a reusable flight platform.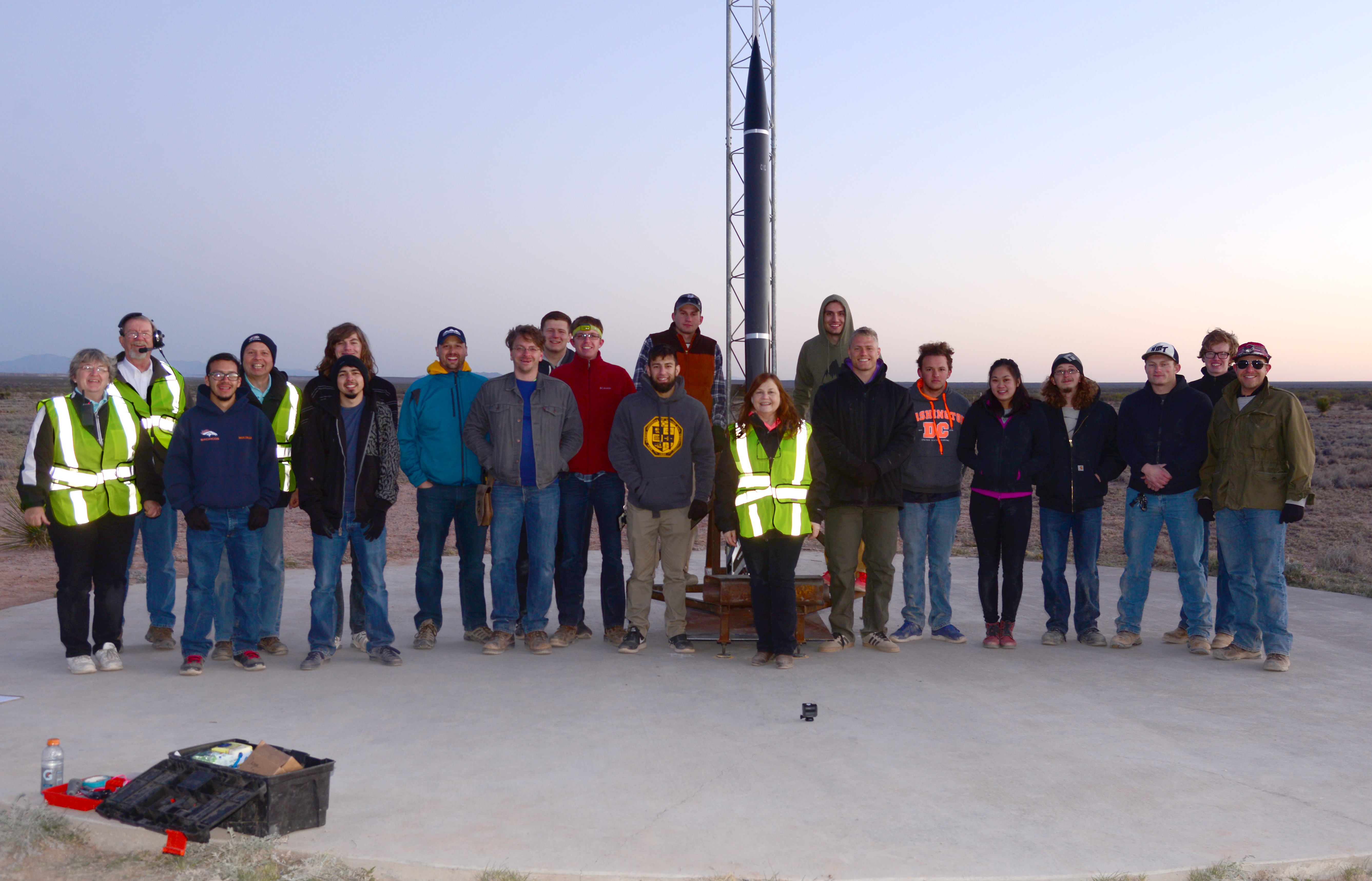 The rocket launched on schedule from Spaceport America's vertical launch area at 7:05 a.m., precisely as planned, and ascended to a peak altitude of 24,127 feet mean sea level, while reaching a maximum velocity of Mach 1.27, or 1.27 times the speed of sound. The onboard avionics recorded a maximum flight speed of 1,372 feet-per-second, a difference of just 4 ft/s from WSRDs' prediction of 1,376 ft/s. All systems performed as designed and the payload and data were recovered after the rocket drifted to the ground under parachute.
"It was just beautiful," mechanical engineering senior and rocket team lead Aaron Misla said. "It's the culmination of everyone's hard work and dedication to a common goal. To succeed with flying colors like this is the best possible scenario we could have asked for."
The Mustang 6B rocket is an updated version of the Mustang 6A that NMT students launched in November 2017, with an increased length, total weight, and motor impulse. The student team is participating in the NMT Mechanical Engineering Design Clinic. This group of 15 students and three volunteers, led by mechanical engineering senior Aaron Misla and junior James Nolan, includes primarily junior and senior students taking the Design Clinic courses with one sophomore and one graduate student volunteer.
The Mustang 6B rocket was developed in conjunction with White Sands Research and Developers (www.wsrds.com), a certified Women Owned Small Business company based in Las Cruces, N.M., that specializes in aerospace research and development. The company is also known for spearheading the successful effort that brought aerospace engineering degree programs to New Mexico's universities.
The students developed most of the rocket components, including separation and data acquisition systems, to fit within the outer mold line design shape developed by WSRDs. The carbon fiber nose cone, payload section, and motor shroud, which form most of the Mustang 6B's outer shell, were built by WSRDs. The commercial rocket motor was purchased by WSRDs for the mission. All of the student designed systems performed as expected, allowing the entire rocket body and payload to be recovered with no damage, and the reusable rocket ready to be flown again.
Mechanical Engineering Professor Dr. Michael Hargather, the New Mexico Tech faculty advisor, said, "It is gratifying to see the hard work of the students pay-off with such a spectacular success. We look forward to future launches. We greatly appreciate the support from Spaceport America and White Sands Research and Developers."
New Mexico Tech's students have been building and flying rockets as part of the Design Clinic since 2012 and have been partnered with WSRDs since 2014. The team plans to continue to develop systems and flight instruments for the rocket in preparation for its next launch.
Dan Hicks, CEO of Spaceport America, said, "I congratulate the Tech students and Dr. Hargather on their success. The partnership with Spaceport America has resulted in four launches with each being more ambitious than the previous. These students will be fine additions to America's aerospace workforce." Mechanical engineering student and rocket team co-lead Aaron Misla said, "It's the culmination of everyone's hard work and dedication to a common goal. To succeed with flying colors like this is the best possible scenario we could have asked for."
This semester's team leads were Misla and Nolan. Rocket team members this semester are Megan Armstrong, Joshua Berson, Ben Bohling, Connor Deuschle, Damian Gallegos, Ryan Garcia, Tanner Graham, Dylan Johnston, Francisco Koerdell Sanchez, Luis Molinar, James Ritter, Alejandro Rodriguez, Andrew Wanchek, sophomore volunteer Calla Lang, student volunteers John Sanchez and Ben Katko, and faculty advisor Dr. Michael Hargather.
The team acknowledges the support of many individuals who helped make the launch possible, including WSRDs' launch crew consisting of Dr. Paul T. Jaramillo, Dr. Christina Lohn, William Shelton, Lisa Shelton, and Jim Perry; NMSA Staff, especially Dr. Bill Gutman and T.J. Allard; Bill Begges of the Albuquerque Rocket Society (who provided insights and spare igniters), Doug Gerrard, and the NMT administration for continued support of the student team.
WSRDs commemorated the Mustang 6B mission with a mission patch developed by Chip and Lenora Wyly.
Photo Credit: Jim Perry, White Sands Research and Developers, LLC