Five Standouts Named Macey Scholars For 2018-2019
May 1, 2018
---
NMT announces the winners of the university's top academic scholarship
SOCORRO, N.M. – New Mexico Tech has named five outstanding seniors as Macey Scholars for the 2018-2019 school year.
This year's winners:
Meghan Hill, chemical engineering
Maggie House, chemical engineering
Miguel Luna, chemical engineering
Sabino Maldonado, biomedical science
Emily Silva, biology
Full profiles of each of the five winners will be posted online in the near future.
Macey Scholars are academic standouts, as well as "super-citizens." They represent the best of and most well-rounded Tech students – brilliant young scientists and engineers who are involved in their communities and give of their time to worthy causes.
"New Mexico Tech is very fortunate to have the generous support of the William B. Macey family to recognize some of our most outstanding students," said Elaine DeBrine Howell, the scholarship committee chair. "I am in awe of the strength of character and stunning accomplishments of this year's winners."
The Macey Scholarship is among the most prestigious scholarship awarded at New Mexico Tech. The program is named after 1942 New Mexico Tech graduate William B. Macey. Mr. Macey, who passed away in 2017, has been among the biggest supporters of New Mexico Tech over the years, including significant contributors to the Macey Center building fund in the early 1980s and the Macey Family Childrens Center in recent years.
Macey Scholars are Tech undergraduate students who have a cumulative GPA of 3.4 or greater. Qualified students apply for the program, along with nominations from faculty and staff members, employers and research associates. Those selected as Macey Scholars receive an award of $5,000.
The selections are based upon accomplishments in the classroom, research laboratory, service projects, volunteerism, awards, honors and other activities. Each of this year's winners have an impressive resumé, full of research projects, internships, volunteer work and extracurricular activities. They are all well-rounded young scientists who have marked their careers at Tech with academic achievement, campus involvement and devotion to helping others.
Meghan Hill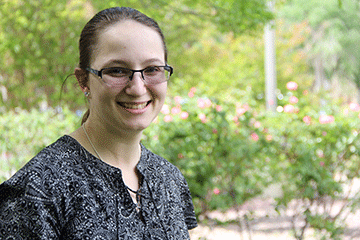 A native of Santa Fe, Meghan Hill graduated from Monte del Sol Charter School. Prior to enrolling at NMT, Hill was a winner of the N.M. Science and Engineering Fair, earning a berth in the 2014 International Science Fair. She also won the 2015 Supercomputing Challenge.
Hill is a chemical engineering major, with minors in biology and biomedical engineering. She has completed internships at the National Center for Genomic Research in Santa Fe and Los Alamos National Laboratory.
She has been doing research with Dr. Michaelann Tartis and Dr. Lilya Frilova on the synthesis of various anti-cancer compounds. She will continue that research project during the 2018 summer term. She spearheaded the creation of a campus chapter of the Biomedical Engineering Society on campus in 2017. Through that work, she secured $4,000 to send 12 students to the Society's annual conference last fall.
She aims to pursue a doctorate in biomedical engineering with a focus on drug delivery after finishing her bachelor's at NMT.
Maggie House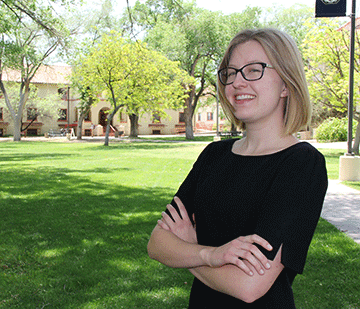 A native of the Albuquerque area, Maggie House went to high school at the Southwest Aeronautics, Mathematics and Science, or SAMS, Academy. She decided to study chemical engineering after taking dual enrollment classes in chemistry while in high school.
A 4.0 student, House has been doing research with Dr. John McCoy of the Materials Engineering Department ever since her freshman year. Through this work, she secured a summer internship at Sandia National Laboratory on a similar project.
She has worked as a teaching assistant in chemical engineering, assisting new freshmen develop and build a "Chem-E Car." House also has been involved in campus chapters of Tau Beta Pi and the American Institute of Chemical Engineers, serving as an officer in both clubs.
She aims to pursue a doctorate in chemical engineering after finishing her bachelor's at NMT.
Miguel Luna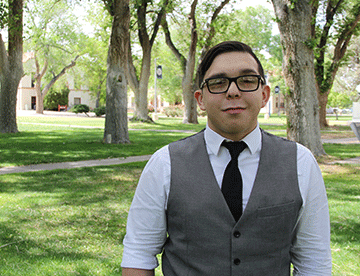 Miguel Luna is a graduate of Santa Teresa High School in southern New Mexico. Luna chose chemical engineering based on his experience in AP science classes and from advice from his high school mentor.
Luna was selected to be a learning coach for the Living Learning Community program and has worked as a tutor for the LLC program for four semesters. His has also been a teaching assistant for both the CLASS Department and Chemical Engineering. His past research includes safety procedures for managing nuclear waste at the Waste Isolation Pilot Plant near Carlsbad.
He is currently conducting research with Dr. Pabitra Choudhury, where he is modeling catalytic materials used to convert methane to methanol. He will continue that work during the summer 2018 semester.
Luna has been highly active with the American Institute of Chemical Engineers campus club. He was also a part of the winning NMT team at the Creaton 2017 design competition in Puebla, Mexico.
Sabino Maldonado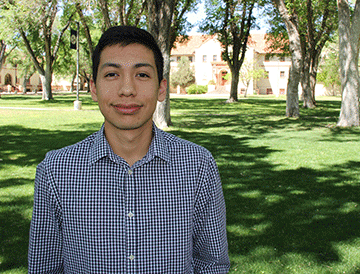 A graduate of Valencia High School near Los Lunas, Sabino Maldonado has been doing research with Dr. Rubasinghege in environmental chemistry since his freshman year. He has presented research at the N.M. INBRE conference twice, once winning first place for his poster and winning first place as best student speaker in 2017.
As a first-generation American, Maldonado said he has overcome many obstacles in becoming a successful Tech student – and a Macey Scholar. In high school, he took as many classes as possible, but didn't have the same science and math background as many of his peers.
Maldonado was selected for a summer internship at Yale University in 2017, where he studied a little-known sub-Saharan parasite. He also was able to spend time shadowing students in Yale Medical School. He was selected for a summer internship at Harvard University for the summer 2018 term.
Maldonado has worked as a teaching assistant for three years – a task he finds supremely rewarding. He has volunteered for the Science Olympiad and Science Fair.
Maldonado knows he wants to go to medical school, but hasn't decided if he wants to do a Ph.D./M.D. or a medical degree
Emily Silva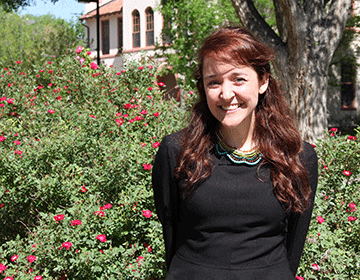 A native of Alamogordo, Emily Silva is majoring in biology with a chemistry minor. She has been involved with the student newspaper "Paydirt" since her freshman year. She has also served as an officer for the Student Government Association and worked as a teaching assistant. She has also served the student member of the NMT Board of Regents since January 2017.
She's been doing research with Dr. Siv Watkins in the Biology Department since the spring 2017 semester. There, she is working on developing a map of healthy soil environments in an effort to benefit agriculture in New Mexico.
She is finishing her certification in phlebotomy at Socorro General Hospital through an NMSU program. She hopes to go to medical school after finishing her bachelor's at NMT.
– NMT –