---
Fractures and Fissures are a common sight in the southwestern landscape shaped by time, wind, and water, but they can also be a metaphorical representation of other things happening in our society, environment, and individual lives. They are caused by movement, tension, and gravity, and can leave beautiful wonders or ugly scars.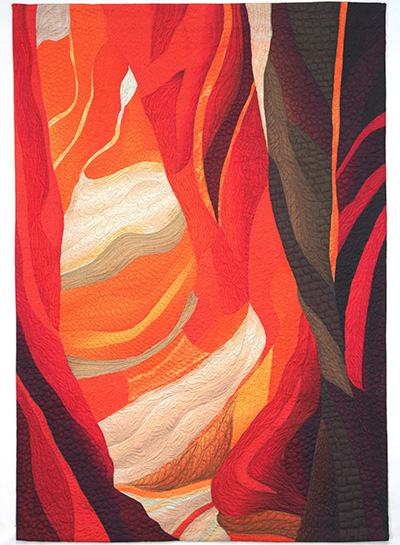 Slot Canyon 4b
Vicki Conley, Ruidoso Downs, NM
Art Quilt, 33″H x 23″W, $500
The twists and turns of the beautifully carved slot canyon allow the brilliant sunlight to kiss the folds of rock. Every step along the ancient path presents a different view, slicing through eons of time.
Photo credit: Doug Conley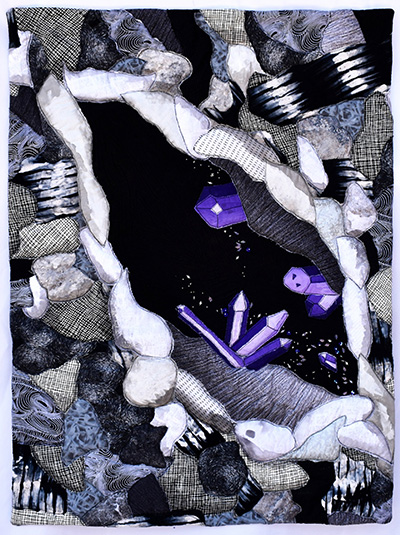 Fracture Underground
Anne Moats, Bisbee, AZ
Art Quilt, 39″H x 29″W, $800
My partner is a mineral collector, and I have at times accompanied him on mineral-collecting trips. The moment when fractures and voids in the rock are exposed for the first time ever, and the amazing natural crystals are exposed, is an amazing experience. The beauty that may be hidden under the surface of our world is haunting.
Photo credit: Stacie Moats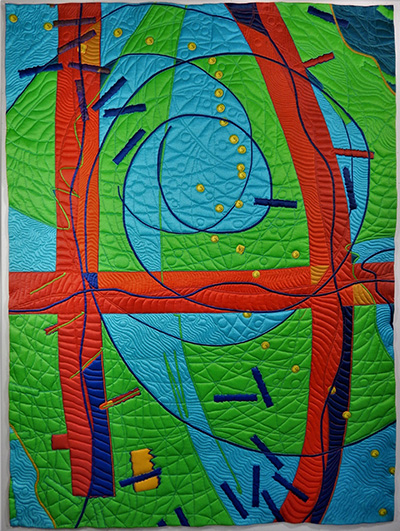 Fissures Old and New
Betty Hahn, Sun City, AZ
Art Quilt, 47″H x 35″W, $3700
Fissures can be found underground in ancient habitations and above ground in new structures.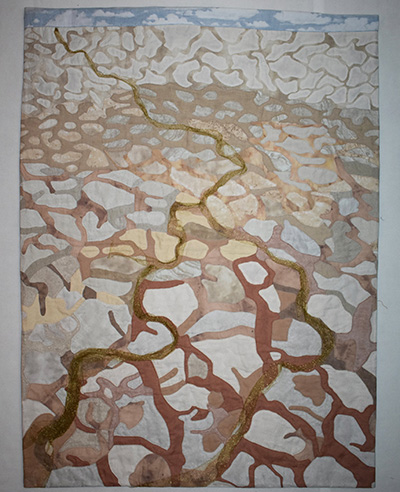 Once a Mighty River
Bev Haring, Longmont, CO
Art Quilt, 41″H x 31″W, $1275
Drought has taken it's toll -- all that remains is the cracked, dry river bed -- and a muddy little trickle for as far as the eye can see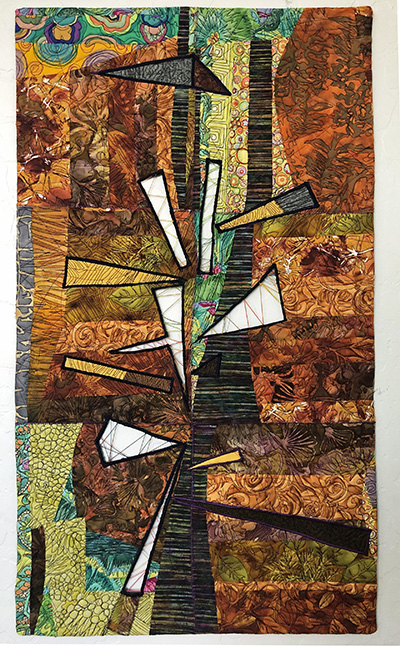 Fractures and Fissures
Debra Goley, Goodyear, AZ
Art Quilt, 35″H x 20″W, $750
Recently uncovered earth fissures in Arizona inspired me to discover giant crevasses not made by erosion. I wanted to represent an open surface fracture that may be up to a mile long and fifteen feet wide and many feet deep. The fissures often occur where a lack of groundwater withdraws and stress on underlying layers begins to shift. The Arizona Geological Survey has begun to map out such regions. On further inspection, beyond exposed roots and ground cover, the holes are not static. A light source on the art shadowing onto a wall's surface shows the ever-changing shift.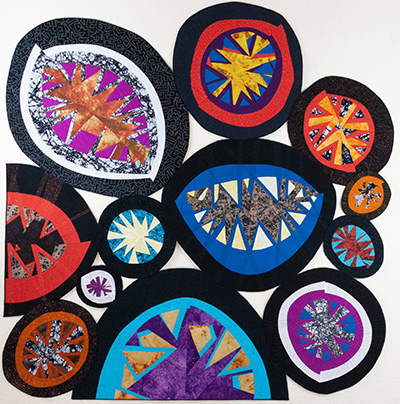 Geode Cache
Diana Fox, Parker, CO
Art Quilt, 47″H x 45″W, $900
What spectacular treasures await when opening this hollow and nondescript looking rock! Earth, air, fire, and water produce these amazing internal landscapes which are absolutely breathtaking. Much like humans, each is unique and is formed by its individual circumstance, with no two ever being alike.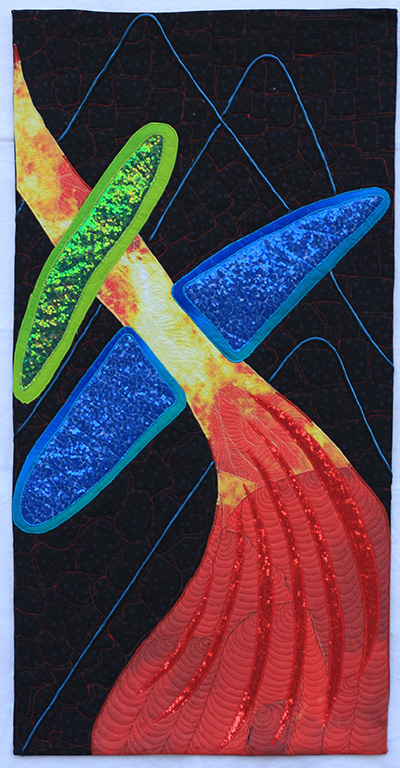 San Francisco Mountain
Frances Murphy, Surprise, AZ
Art Quilt, 20″H x 40″W, $1000
The San Francisco Peaks near Flagstaff, Arizona are the eroded remains of a single, much higher stratovolcano called San Francisco Mountain which stood over 16,000 feet high and is over 1,000,000 years old.92,000 years ago, the top and northeast flank of San Francisco Mountain collapsed in a giant avalanche leaving the present-day San Francisco Peaks as the edges of the collapsed mountain top. San Francisco Mountain lost 4,000 feet of elevation in the collapse.
Volcanic activity in the American Southwest has shaped our landscape as well as our environment. What a sight that huge volcanic peak must have been!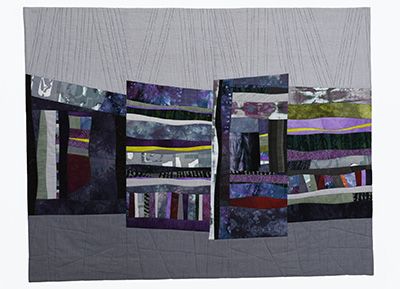 Dark Mesa
Lynn Rogers, Rio Rancho, NM
Art Quilt, 31″H x 24″W, $750
All around the Southwest, rock layers tell stories of ancient times to the present. By reading the rocks, we can learn about seas that have come and gone, life forms that are no longer viable, changes in climate and civilizations that have come before us. While some view these inanimate places as something to be utilized and even exploited, others find solace in the sacred places they represent.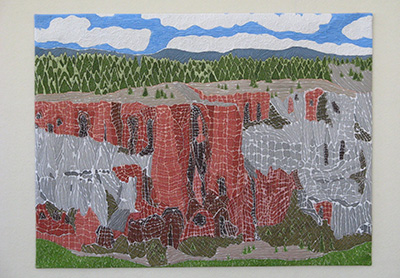 Bryce Canyon Overlook
Lynn Welsch, Mimbres, NM
Art Quilt, 25″H x 33″W, $800
Bryce Canyon's unique rock features were created over eons of time by wind and water, making for some very unusual and fascinating landscapes! Based on one of my photos, this is a whole cloth piece made with Jacquard Resist and Dyna-Flo paints and it was then heavily quilted to represent the fractures and fissures found in the rock formations.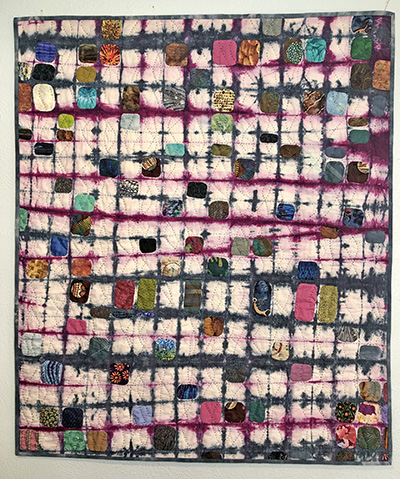 The Space Between
Nicole Dunn, Albuquerque, NM
Art Quilt, 47″H x 40″W, $800
The space between is everything, the missing parts of a DNA sequence, the missing data, a missing stone in the pathway, a fractured window; all this and more came to my mind as I worked on this quilt. How, even when a part is missing or fractured, one can find beauty. http://www.dunnquilting.com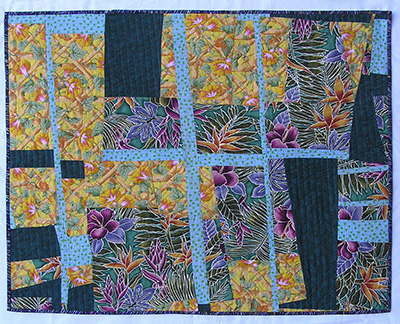 Wuhan Spring
Sandra Hoefner, Grand Junction
Art Quilt, 26″H x 33″W, $500
I love winter but I always look forward to spring. This year the exuberance of the brightening sun and new growing season seemed to be behind a barrier.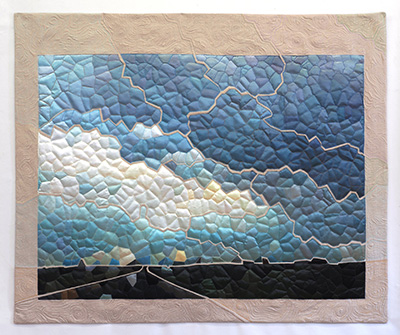 Hwy 70: Portales to Roswell
Shannon Conley, Moore, OK
Art Quilt, 42″H x 50″W, $900
The plains often get a bad rap for being boring from those of us who consider ourselves mountain folk. But beneath the surface are literal and metaphorical fractures and fissures. A walk through the plains turns up unexpected ravines, delightful pockets of animal and plant life, as well as human-inspired contentiousness. Probing a little deeper reveals the often conflicting interests of those who want to extracting fossil fuels, those who want to invest in alternative energy sources like windmills and solar panels, those providing food on farms and ranches, and those interested in preserving the rich native plains ecosystem.
http://shannonconleyartquilts.com
Photo credit: Mike Cox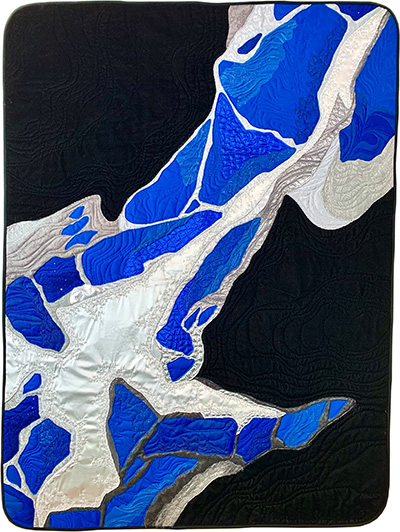 Blue Crevasse
Michelle Jackson, Sandia Park, NM
Art Quilt, 45″H x 33.5″W, $1900
I have always loved texture and here is a sample of stylized texture that one might see in a fissure in the earth.