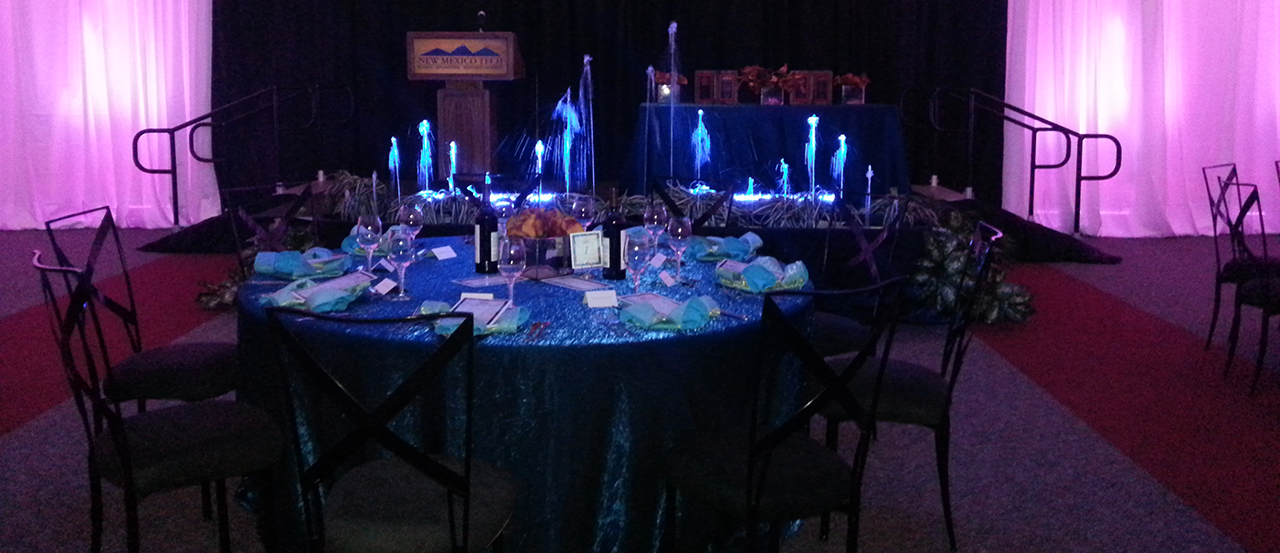 Fidel Student Center
Policies
Reservations: All reservations must be made with the Fidel Center Manager at (575) 835-6513 bobbi.lesperance@nmt.edu or (575)835-6545 or by email to gloria.gutierrez-anaya@nmt.edu
Fidel Rental Use Agreement: A Fidel Rental Use Agreement will be issued for each event detailing the space authorized for use, security requirements, decoration policies, dates/times of event and set-up, and audio/visual authorization.
Payments: An account code or credit card/check down payment of 50% or $100, whichever is greater, will be required to confirm the event. An invoice will be sent within one week of the event's completion. Invoices must be paid within 30 days of issuance.
Cancellations: Cancellations 30 days or more before the event will result in ½ of the deposit being returned to the group. Cancellations within 30 days of the event will result in no refund.
Security: Evening events require a minimum of 2 security officers. Security may also be requested by the User/Tenant. The fee is $35 per officer, per hour.
Two-Party Users: In the event that a reservation involves more than one financially responsible party, the Fidel Use Agreement must be signed by all parties.
Damages: Fidel Center reserves the right to require a damage deposit for the protection of the facility. The User/Tenant is responsible for any damages. If custodial, electrical, or maintenance issues occur and are caused by misuse of equipment, ­­­a labor cost ranging from $34.50 to $67.50 per hour will be assessed. The amount charged for damage shall be within the sole jurisdiction of Fidel Center/New Mexico Tech and will be included on the invoice.
Catering: Catering for any function held in Fidel Center must be made through Chartwell's at 575.835.5111 or 575.835.6174. Catering arrangements include tablecloths, chair covers, flatware, food, etc. Users/Tenants will be invoiced separately by Chartwell's.
Liability: Fidel Center is not liable for any loss or damage during use of the facility by the User/Tenant. Any items belonging to User/Tenant must be removed upon completion of the event. During the event, Fidel Center reserves the right to eject or cause to be ejected from the premises any objectionable person(s). New Mexico Tech nor its officers, agents, or employees shall be liable to User/Tenant for any loss or damages that may be sustained through the ejection of person(s).
Layout Changes: User will be charged $25 for any significant layout changes made on the day of the event.
Over-Time Charges: For any event that goes beyond its reserved time, the User/Tenant will be charged $25 per half hour.
Decorations: Any decorations must be pre-approved and written into the Fidel Use Agreement. Damage caused by unapproved use of decorations will result in a charge to the User/Tenant.