---
2018 New Student Orientation Dates Are Set!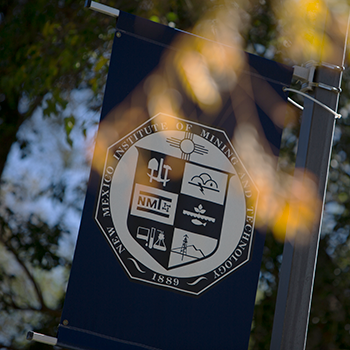 Download our Orientation 2018 RSVP Form Here
New Student Orientation is an event to help provide students with a successful transition to New Mexico Tech. Our programs are designed to give you a good start at the university. Programs are specifically designed for traditional freshman, transfer students, and family members of new students.
Orientation 2018 dates are set. Students will be receiving an invitation to attend via email and standard mail. Students can either come on Friday, July 20, or Friday, August 17, 2018.
Schedule of Events - July 20, 2018
Time
Event
9-11 a.m.
Check-in Fidel Center Atrium and Continental Breakfast
10 a.m.
Welcome Dr Stephen Wells, President NM Tech (Behind NMT Rose Garden)
10 a.m.-Noon
Club Fair and Information Booths (Fidel Atrium)
10:30 a.m.-Noon

Resident Hall Tours (start in housing office)
10:30 a.m.- West, Driscoll, and President's Hall
11:00 a.m.- South Hall
11:30 a.m.- Torres and Baca Halls

10 a.m.-5 p.m.
TCOB (Take Care of Business) (Students Only)
Post Office- Get your Post Office box set up
Registrar- Take your student ID photo
RAVE System sign up- (Computer Pod)
Bookstore- Students may purchase their books
11:30 a.m.-1 p.m.
Welcome Lunch Chartwell's Dining Hall
1-2 p.m.
Student Social and Focus Group, 3rd Floor Ballroom C (Meet your classmates) Students Only
1-2:30 p.m.
Parents Matter and Focus Group, Workman 101- Parents Only
2-4 p.m.

ADVISING/REGISTRATION - Fidel 3rd Floor Ballrooms
{PLEASE REFER TO BACK OF NAME TAG FOR REGISTRATION WAVE}
2-2:30 p.m.- 1st wave (unregistered students)
2:30-3 p.m. - 2nd wave (unregistered students)
3-4 p.m.- All departments open for Q&A

2-3:15 p.m.
Title IX Training- Dr Peter Phaiah- Fidel Ballroom C (Mandatory Students Only)
3:15-4:30 p.m.
Title IX Training- 2nd Session
3:30-4:15 p.m.
Snow cones (Students Only) Fidel Steps